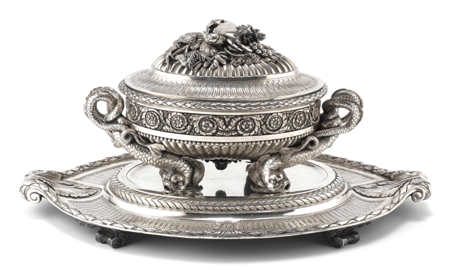 Now is the time to buy a Silver bargin…
Currently there is one segment of the huge $63.8billion international market in art and antiques that is seriously depressed and which is due an inevitable correction – antique silver.
So now is a good time to buy antique silver objects, candelabra, dinnerware, snuff boxes, any kind of beautiful ornamental silver. "It's a bargain at current prices," says Pontus Silfvertoolpe, co-founder of Barnebys.
One of the greatest merits of Barnebys massive art and antiques database is its ability to track the values of the commodities it covers – art, antiques, wine, cars – some dozens of specialist collectable items.
Barnebys is the worlds largest and fastest growing art and antique search engine and covers 1,600 auction houses internationally, from the best known names in the business – Sotheby's, Christie's and Phillips - to the local auction house near you.
As a result the company is constantly being asked what is hot and what is not, what is up and what is down in art and auctions sales. If you want to invest in art and antiques what should one be looking at?
From being one of the safest investments, something that always found a ready market, antique silver today is many times cheaper than its smelting value as ingots of silver. In the past, one's fortune was often counted in silver, one of the oldest precious metals known. For most people it was their silver spoons that were the future pension, and a pair of well-polished candelabra from any of the great masters could be exchanged for a whole building in central London. Silver was therefore the first thing that was hidden or buried when the enemy attacked. Sadly this is not the case anymore.
This has had a terrible effect on beautiful antique silverware, much of it is being melted down and turned into silver bullion instead of existing as lovely antique and well functioning coffee pots, napkin rings, elaborate bread baskets, candelabra or other ornamental objects which used to grace the tables of the rich and famous.
A fine Georgian coffee pot in the 1980's would have sold for £1,500; today you can pick them up for £800 to £1,000. This poses the question, has antique silver become worthless?
The answer is no! The situation is not absolutely hopeless. There is a light at the end of the tunnel when it comes to antique silver and silver's existence as beautiful objects. The generally prevailing trend in the secondary market is that quality still counts, regardless of category, materials or age. And this is true of silver. The best of the best continues to hold its value.
What people are particularly looking for today is the unusual object with provenance. For example a magnificent highly decorated soup tureen once owned by the sister of Queen Marie Antoinette, estimated to sell for £100,000 to £200,000 in fact sold for a staggering £447,000 at Bonhams.
Items in silver that are still sought after include wine coolers and wine strainers. These reach high prices in the collector communities, a non-price-sensitive audience around the world which certainly knows how to use them. Decorative silver is enjoying a renaissance when it finds an educated market from the US to China and the Middle East – particularly pieces in the Art Nouveau style.
So for those who are not impatient and have the time to wait, prices will probably rise within a few years. And for lovers of antique silver the bonus is that it can hardly be cheaper than it is today. And while this trend will in all likelihood continue down a bit further, it will recover and deliver a good return on your investment.
It is now time for new generations to start using silver again, to understand and appreciate the value of quality and durability and the intrinsic beauty of this ancient and much valued precious metal.
Because most silver works are currently melted down for their scrap value, we will see a higher interest and much higher prices for those items that survive the current smelting madness. Supply and demand will as ever have a rectifying effect.
So Barnebys would advise you to join us online and see who is holding serious silver auctions. There are bargains to be had out there that are both stunningly beautiful works of art and also quite often very functional as dinner services or as decorative objects with intriguing histories. Given that silver prices will doubtless rise again its investment value is another reason to buy silver.
Find out more at
www.barnebys.co.uk
Picture at top: Item sold for £447,000 at Bonhams.

THE SACHSEN-TESCHEN TUREEN, AN IMPORTANT LATE 18TH CENTURY AUSTRIAN SILVER SOUP TUREEN AND STAND,
by Ignaz Josef Wurth Vienna 1781, stand and liner 1780, and early 19th century Austrian control marks. Provenance: Albert Casimir (1732-1822), 6th son of Elector Frederick August II of Saxony, created Duke of Teschen on his marriage in 1766 to Archduchess Maria Christina of Austria (1742-1798), 4th daughter of Emperor Franz I and Empress Maria Theresa and sister to Marie Antoinette.