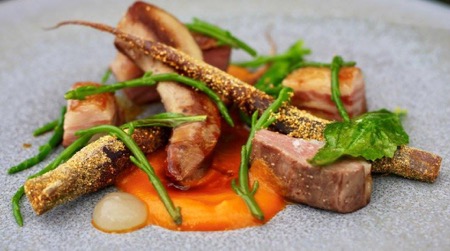 NEW MANAGER FOR THE CLOCK HOUSE, RIPLEY
Serina Drake, owner of The Clock House in Ripley, Surrey, has announced the appointment of Iain McArthur as the Michelin-starred restaurant's new Restaurant Manager. McArthur, whose career includes stints in South Africa at a luxury country lodge hotel, and South Lodge Hotel, is widely experienced in the hospitality business and his appointment follows the departure of Joseph Pocceschi. After four years heading up The Clock House front of house team, Joseph has returned to France to run his family-owned hotel and restaurant.
Commenting on the appointment, Serina Drake said:
"I am delighted that Iain is joining our team. Having previously worked together a few years ago re-launching The Anchor, I know that the restaurant is in safe hands. Iain is a consummate foodie and has great breadth of knowledge. Also, being a trained chef gives him a real understanding of the overall guest experience. He is a great asset to our team and already has some very exciting plans for the future."

"I feel privileged to work in such a renowned establishment," says McArthur, "The Clock House building has held a Michelin star, in one form or another, under Serina's proprietorship for over 12 years, and together with other recent awards, is widely recognised to be one of the best dining experiences in the area. I am very much looking forward to working with head chef Fred Clapperton, and the rest of the brigade."


To book please visit >>>
www.theclockhouserestaurant.co.uk