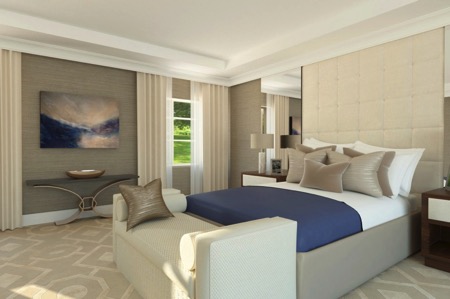 JCA Interiors Announced as Finalist in SBID International Design Excellence Awards 2015
London based interior design company JCA Interiors has been shortlisted for this year's SBID International Design Excellence Awards.
Against a prestigious international field, their Surrey country mansion project has been chosen by a select panel of industry experts as one of only two British companies to reach the final in the visualisation category.
JCA Interiors' in-house team created the high quality 3D visualisations as part of their interior design process. The visualisations were extremely detailed including specific pieces of furniture modelled to the nearest millimetre. As an interior design practice, having this 3D technology in-house enables JCA Interiors to show clients the exact design before implementation. Adjustments can be made quickly and easily until the client is completely satisfied with the design.
The whole interior design of the Surrey country mansion was balanced by the mixture of contemporary and classic blending together creating an elegant scheme which was enhanced by the use of texture, lighting and great attention to detail, comprehensively demonstrated in the 3D visualisations.
Jenny Allan, founder of JCA Interiors said
"We are very proud to achieve this recognition at an international level and I believe it demonstrates our dedication to providing the best possible services to our clients."
The public are now invited to vote for the finalists as their votes will be counted towards the overall results. See JCA Interiors' whole project entry here >>>
LINK
The SBID International Design Excellence Awards are recognised as one of the most prestigious in the interior design industry.
For more information on JCA Interiors see their website
www.jcainteriors.co.uk