06/12/17 15:03 Filed in:
Surrey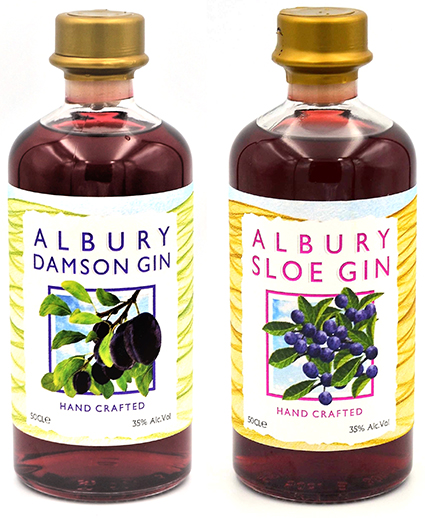 SILENT POOL DISTILLERS LAUNCHES TWO NEW SEASONAL SPIRITS
Silent Pool Distillers has extended its offering for Christmas with the introduction of two new seasonal spirits: the Albury Sloe Gin and Damson Gin. Both have been neatly handcrafted in the Surrey Hills distillery, ready to bring a touch of berry warmth to your festivities and offer the perfect gin-lovers' gift this Christmas.

Just launched, the Albury Sloe Gin (£30 per 50cl) puts a modern twist on the traditional sloe recipe, with a slightly higher strength and the addition of a secret spice. Using less sugar than most other brands, the Sloe Gin expresses a delicious balance between the sweetness and classic tart finish from the fruit. Expect an initial hit of rich berry, followed by subtle notes of juniper and almond, ending on a pleasantly warm finish.
Sip your Sloe Gin from a hip flask on a long winter's walk, enjoy it neat or poured over ice with an optional squeeze of lemon. Or better still, why not add a splash to your Christmas champagne?
Offering an equally tempting after-dinner tipple, the Damson Gin (£30 per 50cl) brings together sumptuous notes of ripe berry and plum, with hints of almond, juniper and a finishing note of vanilla. Crafted using damsons sourced from Kent, this flavorsome British classic is not to be missed from your festive drinks selection. Mix yours with lemon juice and soda for a classy Christmas Collins!
The new spirits join a whole host of handcrafted products on offer from Silent Pool Distillers this season; from innovative liquid garnishes to boozy Christmas crackers, scented candles, gin-infused salmon and its signature, award-winning Silent Pool Gin.
The Sloe Gin, Damson Gin and all other products crafted by Silent Pool Distillers are available to buy now at the distillery, or online at
www.silentpooldistillers.com
.
14/11/17 17:32 Filed in:
Silent Pool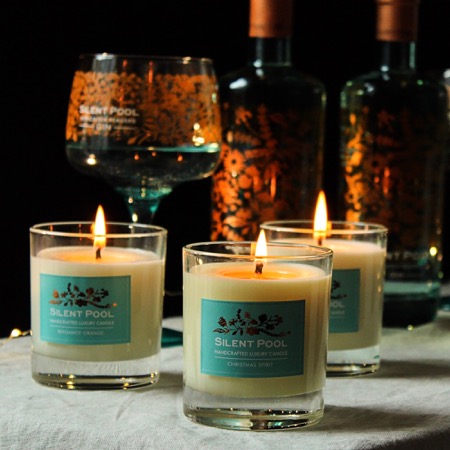 A romantic trail of candles along the path round the Silent Pool has traditionally lit the way to the artisan distillery in Albury for its popular evening events.
Now Silent Pool Distillery has created its own luxury range of botanical-infused candles echoing the essence of its spirits in a new collaboration with an artisan candle maker and Feather Edge, supplier of handcrafted and designed tableware and home accessories.


Feather Edge founder Amber Craven approached Silent Pool director Ian McCulloch about the possibility of creating the Gin Botanicals Collection to complement her original Earl Grey Tea candles. They chose three fragrances- Kaffir Lime, Bergamot Orange and Christmas Spirit, blends inspired by the romantic botanicals that give Silent Pool Gin its distinctive and exceptional character.
The candles are hand poured for Feather Edge by artisan candlemaker Bird Box in England using only natural, sustainable ingredients without any petrochemicals or mineral wax and possess the added therapeutic qualities of pure essential oils.
Amber Craven explains 'As committed artisan distillers, Silent Pool actively encourage collaborations with like-minded local companies and their intricate, multi-layered gin lends itself perfectly to the world of luxury home fragrance.'
Ian McCulloch, Founding Partner of award winning Silent Pool Distillers comments, 'It was important for us to use sustainable soy wax and pure essential oils that capture the bright aromatics, delicate florals, rich citrus and ethereal high notes of Silent Pool Gin. The result is three delicious fragrances everyone will love.'
The candles are available to buy from Silent Pool's new on-site retail shop in Albury, from the Feather Edge Collection at Charter Walk Kitchen Living, Charter Walk, Haslemere and online at
featheredge.com
.
22/05/16 10:37 Filed in:
What's On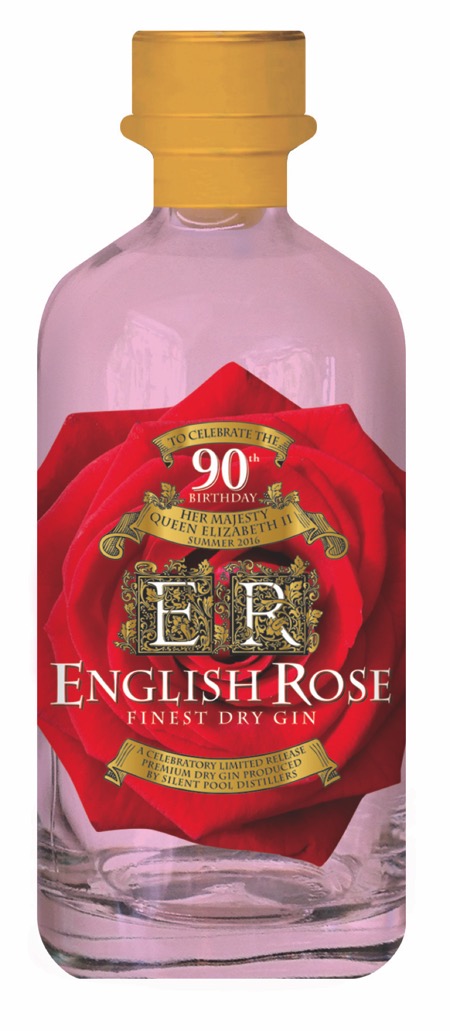 Silent Pool Distillery invites you to raise a glass to the Queen
Silent Pool Distillers at Albury will be toasting the Queen's 90th birthday on June 11 with a spirit specially created in her honour – English Rose Gin.
The distillery is throwing an All-day Open-house Party for the public from 11am until 6pm to launch the new limited-release English Rose Gin. It was an appropriate spirit to choose for the Queen's birthday celebrations, as June 11 is World Gin Day!
Visitors can taste and buy the English Rose Gin plus the full range of Silent Pool international award winning spirits and enjoy free tours of the still house with its fabulous copper cauldron and swirling pipework. Craft beer, gin cocktails and hot food will be served in the distillery courtyard and there will be Silent Pool merchandise to buy and fun activities to help raise money for a local charity.
Come and blow the old steam whistle, which normally echoes across the Tillingbourne Valley in the traditional announcement that gin is being distilled, and guess the number of corks in the Silent Pool's unique 9 litre gin bottle. Prizes include tickets for a 90 minute Gin Experience Tour plus £5 voucher to be used towards a purchase on the tour night.
In the evening, festivities continue at Sherbourne Farm on the Duke of Northumberland's Albury Estate next to the Silent Pool with an exclusive ticket-only Outdoor Cinema Night. The pop-up cinema is organised by Venture Cinema, which will be screening High Society, the classic 1956 musical comedy.
Venture Cinema is an independent UK community cinema project. It works with unique venues such as museums, galleries, parklands and heritage foundations, among others, to screen the perfect film to bring both the space and the story to life. Doors for the outdoor screening open at 7:15pm and the movie starts at 8:30pm. For more details and to buy tickets go to:
www.venturecinema.co.uk
.