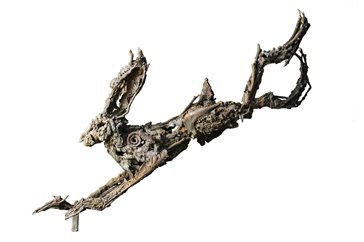 Hosts Surrey Sculpture Society Trail
22 August – 27 September 2015
RHS Garden Wisley welcomes the Surrey Sculpture Society into its beautiful grounds for the annual Surrey Sculpture Society Trail. This event brings together unique art works created by some of the most renowned artists, both established and emerging, from the South East.
The sculpture trail will open to the public on 22 August and run until 27 September 2015. Visitors to RHS Garden Wisley will discover a wide range of sculptures located throughout the grounds. The sculptures are made in stone, metal, bronze, resin, glass, ceramic, wood and found objects, and will be available to buy for a range of prices.
Teresa Martin, Surrey Sculpture Society's exhibition manager for the event, said: "The Sculpture Trail at the RHS Garden Wisley in 2015 will echo some of the surreal aspects of the Alice in Wonderland garden with a diminutive ceramic merchant's house and highly magnified plant forms on the Rock Garden that play with your sense of scale. There are intriguing and enchanting modelled forms cast with durable metal resins and some glorious celebratory shapes carved in stone, while the glass sculptures are stunning this year. The sad and the joyful aspects of our world are touched on by the artists, and some will definitely make visitors smile as they wander through the trail and find another piece round a corner in these magnificent gardens."
Stephanie Fudge, Head of RHS Garden Wisley, said, "The Surrey Sculpture Trail at RHS Garden Wisley is an extremely popular event. The art is so beautifully presented and visitors can enjoy the garden setting at its best with the Mixed Borders in full flower. We enjoy seeing the sculptures change each year, and we love working with the Surrey Sculpture Society."
Enjoy the delights of the trail when you visit for the floral extravaganza of the late-summer RHS Wisley Flower Show, 8 – 13 September, and the creative inspiration from spectacular colour of the the spectacular colour of the varied late-summer plantings throughout the garden.
Normal garden entry applies. For more information visit
www.rhs.org.uk