BOOKHAM CHARITY WINS £97k HERITAGE LOTTERY FUNDING TO OPEN UP "ROYAL" COLLECTION OF NEEDLEWORK TO THE PUBLIC
The Grange charity for people with learning disabilities in Bookham has won funding worth £97,000 from the Heritage Lottery Fund (HLF) to create a heritage room telling the story of its beginnings as 'The School of Stitchery and Lace' founded in 1938.
The project will preserve the charity's historic collection of needlework, which has royal connections, and create a new interactive learning and heritage space open to all visitors.
The collection includes embroidered items and there are numerous letters between The School and the royal household - from Queen Elizabeth's nurse ordering a copy of a dress to hand-drawn designs for Queen Mary's nightgowns.
People with disabilities at The Grange will be involved in the set up and running of the project which will build stronger links between the charity and the local community and will become part of the Bookham Heritage Trail.
Gill Caldwell
, from The Grange said: "We are delighted to have won this Heritage Lottery funding and very grateful to lottery players. It will allow us to preserve our historic needlework collection for future generations and couldn't come at a better time as we celebrate our 80th anniversary in 2018. We would love to hear from anyone with memories of The School of Stitchery and Lace and hope people will contact us.
"The grant will enable us to digitise photographs and letters and make flip books that visitors can handle and read at their leisure. There will be headsets for listing to oral histories as well as interactive games. Once set up, the Heritage room will host learning events and community activities. We particularly want to welcome school groups."
"When The School - now The Grange - opened in our Victorian mansion in Bookham in 1938, its founder, Miss Julia Sweet, became a pioneer in training women with disabilities in skills that would give them an income and independence. We carry on that tradition today."
The Grange is the only adult care provider in Surrey able to offer accommodation, care and a wide range of skills training all on one site. With a focus on teaching practical and creative arts including needlework, people can develop life and work skills in the charity's shops, cafes and mini businesses as well as take part in sessions in horticulture, catering, communications, IT, woodwork and creative arts.
Below: Zena, a tenant of The Grange, with a nightdress case made for Queen Mary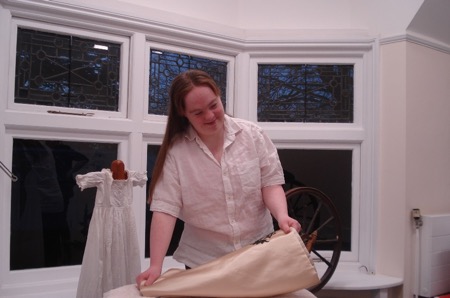 The Grange works with people with disabilities, helping them to lead independent and fulfilling lives by offering residential care and supported living. For more information about its work, please visit our website at:
www.grangecentre.org.uk