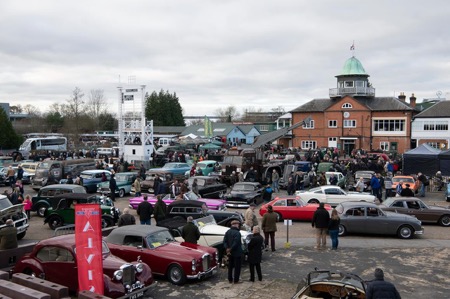 New Year Records at Brooklands Museum
The UK's largest New Year's Day gathering of classic vehicles which is held at Brooklands Museum on January 1st every year broke its previous record with just over 7,900 people attending throughout the day.
The historic site in Weybridge which is the Birthplace of British Motorsport and Aviation welcomed in excess of 1,500 classic cars, vans, motorcycles and commercials from all over the country – a figure which has also never been reached at this or any other event staged at the Museum before. Every inch of the 32-acre site was filled with a staggering variety of cherished vehicles including rare and early examples of Bentley, Riley, Austin and MG as well as sports and supercars. Over in the Aircraft Park, vehicles nestled amongst the Museum's collection of Vickers-built aircraft, under Concorde and on the sloped Members' Banking and Finishing Straight sections of the original 1907 Race Track.
Other highlights included owners who'd brought along hot rods, rally cars and the more unusual makes like Allard, Panhard and Jensen. Visitors came from as far as the West Country, Kent, Worcestershire and Sheffield. Extra catering outlets were set up around the site as well as a winter barbeque to cope with the extra demand and live music filled the air throughout the day adding to the classic atmosphere.
Alongside the rows of classics, visitors explored all the Museum exhibition areas including the Award-winning* Brooklands Aircraft Factory and Flight Shed. This vast, unique exhibition space tells the story of aviation design, testing and manufacture over an 80 year period at Brooklands through interactive displays, assembly lines and workshops. Beyond this on a connecting walkway from a mezzanine level is the Flight Shed which houses some of the Museum's live aircraft, and leads out to the north end of the Finishing Straight.
Mr. Lord, a visitor who came from Ashington in a 1953 Morris summed up the day by saying, "Tremendous show, something for everyone at a wonderful venue".
The event kicks off a milestone year in aviation history that commemorates two aircraft inextricably linked with Brooklands with both having been built or partly built and developed at the site: 2019 marks the 50th anniversary of the first flight of Concorde and the centenary of the first non-stop transatlantic flight which was achieved with a Vickers Vimy bi-plane. Plans are coming together for an exhibition called The First and the Fastest along with fly-ins, a gala dinner, special guests and of course, showcasing these two aircraft which form just part of the aviation collection at the Museum.
These, along with many opportunities to participate in events, volunteering and learning are all detailed on the main Museum website at:
www.brooklandsmuseum.com