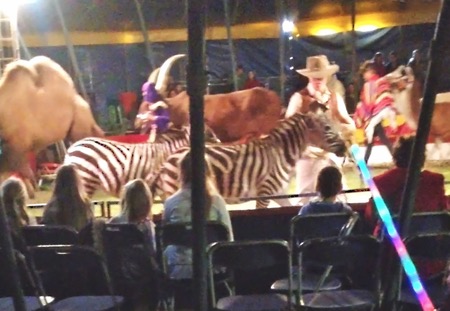 Animal Defenders International
ADI has welcomed reports today that a ban on the use of wild animals in circuses in England is finally to be progressed by the UK Government. If true, it signifies an end to years of inaction and more than a decade of promises by successive governments, during which ADI has time and again exposed animal suffering.

Jan Creamer, President of Animal Defenders International
, said: "Animal Defenders International welcomes the reports of government plans to finally put the ban on wild animals in circuses before Parliament. However, we remain cautious after so many broken promises over the years. "When parliamentary time allows" has often, it seems, been code for "it's not going to happen", yet the public wants an end to circus suffering and ADI's evidence has repeatedly shown that circus animals urgently need government action".
Due to the level of cross-party support, the Labour Government first promised to ban wild animals in circuses during the passage of the Animal Welfare Act 2006. Following the shocking abuse of three elephants at the Great British Circus in 2009, exposed by ADI, a public consultation on the issue was launched by Defra. The results published in 2010 showed 94.5% supported a ban on wild animal acts and resulted in a commitment from the Labour Government before the General Election resulted in a Coalition Government.
In 2011, ADI exposed the terrible abuse of Anne the elephant at Bobby Roberts Super Circus, leading to backbench MPs demanding a ban, again with cross-party support. ADI's shocking footage also led to a cruelty conviction for circus owner Bobby Roberts. With a commitment from the Coalition Government in 2012, legislation was drafted the following year but the bill has simply gathered dust. In the 2015 election 98% of MPs stood on a manifesto promise to ban wild animals in circuses. Repeated efforts by backbench MPs to bring in a ban through Private Member's Bills have been thwarted by just a few MPs.
In 2016, ADI revealed the miserable lives of Thomas Chipperfield's lions and tigers, caged on the back of a truck and shut behind metal shutters at night and with restricted access to an outdoor exercise during the day. ADI also revealed suffering the same year at the winter quarters of Peter Jolly's Circus. Appalling overcrowding, fighting between animals, a worker tormenting a camel, animals kept inside for days on end, and failure to comply with government regulations were documented.
Changing attitudes and awareness of animal suffering have seen the number of wild animal circuses in Britain plummet. Only two circuses with wild animals performed in England last year, Circus Mondao and Peter Jolly's Circus.
Expert analysis of scientific evidence undertaken by Professor Stephen Harris at Bristol University in 2016, and commissioned by the Welsh Government, concluded, "The available scientific evidence indicates that captive wild animals in circuses and other travelling animal shows do not achieve their optimal welfare requirements." The report stated that "Life for wild animals in travelling circuses…does not appear to constitute either a 'good life' or a 'life worth living'".
The Federation of Veterinarians of Europe (FVE) has concluded "there is by no means the possibility that their [wild mammals in traveling circuses'] physiological, mental and social requirements can adequately be met." while the British Veterinary Association concludes that "The welfare needs of non-domesticated, wild animals cannot be met within a travelling circus - in terms of housing or being able to express normal behaviour."
Undercover investigations by ADI inside animal circuses in the UK, Europe, US, and South America have lifted the curtain on the abuse that goes on behind the scenes in circuses leading to bans in countries as diverse as Greece, Singapore, Costa Rica, Taiwan and Colombia. In Bolivia and Peru, ADI has completed major enforcement operations, with wildlife officials and police, tracking down every circus and rescuing all the animals – approaching 200 animals were rescued and relocated.
More than 40 countries around the world have introduced prohibitions on animals in circuses to date and opinion polls consistently show that the UK public remains overwhelmingly opposed to wild animal acts, with a high proportion against all animal acts. In November, Ireland introduced regulations prohibiting wild animal acts from 1 January 2018; in December Scotland unanimously voted in favour of legislation to ban and Wales indicated it will work with Defra and the Devolved Administrations to "consider cross-border issues" given the "strong support for a ban" following its consultation on mobile animal exhibits.
Reports of a ban in England come on the day New Jersey votes to become the first US state to ban wild animal acts. Over 80 US jurisdictions in 31 states have taken action to restrict such acts.
Given the constant travel and their temporary nature, circuses cannot provide animals with adequate facilities to keep them physically or psychologically healthy. Welfare is always compromised.