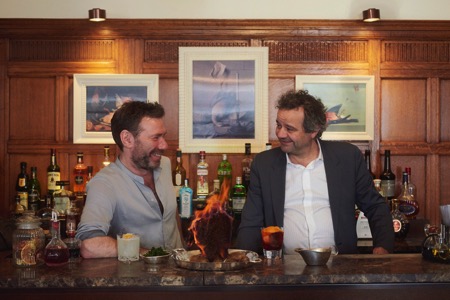 Above: Artist Mat Collishaw and Chef Mark Hix in HIX Mayfair with the F-lamed duck artist dish. Behind, 'Lame Duck 1, Lame Duck 2 and Lame Duck 3' by Mat Collishaw
Discover Brown's London Art Weekend's programme of talks, art tours, recommended walks and the Artists menu at HIX Mayfair 3 - 5 JULY 2015, MAYFAIR AND ST JAMES'S
The second Brown's London Art Weekend will take place in Mayfair and St. James's from 3 - 5 July 2015. For 150 years Mayfair's galleries and auction houses have welcomed the world's greatest art collectors, and this event is the ultimate celebration of this London heartland, rich with art galleries. Experience the unrivalled quality and diversity of this key art market destination as 100 galleries and auction houses open their doors to the public for this exciting event. With talks, walks, and 100 exhibitions to see, Brown's London Art Weekend offers a unique opportunity for art lovers to explore the capital's greatest private galleries.
Brown's Hotel will be hosting a programme of specialist art talks over the course of the weekend, covering topics from 'How to start your art collection' to 'Fashion in Art' and 'The history of art in Mayfair'. Each talk will be hosted by a leading art expert and will last 45 minutes at £30 (including refreshments). Find the full programme at www.brownslondonartweekend.com Mark Hix, Director of Food at Brown's Hotel, has collaborated with artists whose works are displayed in HIX Mayfair at Brown's, creating an innovative, seasonal and delicious menu including dishes such as: Glen Ligon's inked spelt with cuttlefish and sea purslane, Peter Peri-Peri Dorset blue lobster and Lancashire spring chicken and Mat Collishaw's f-lame'd duck with New Forest cherries (see image above). This special Artists Menu will be available in HIX Mayfair from 3 – 5 July 2015. For those who would like a creative tipple, Hix presents The Artist's Collection, a palette of colourful mini cocktails (£20 per palette of 4 mini cocktails).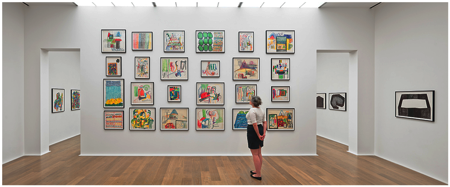 Brown's London Art Weekend is once again led by Brown's Hotel, situated on Albemarle Street, surrounded by the many galleries taking part in the event. The understated elegance of Brown's Hotel and its location make it a popular choice for art collectors, gallery owners and artists.
Brown's London Art Weekend, now an annual event, received very positive feedback in its first year. "A gateway to the extraordinary range and quality of art works and art expertise to be found in London's premier art district" Emma Crichton- Miller. Each participating gallery will be open from 11am – 5pm on Saturday 4 and Sunday 5 July 2015, many of which will be hosting talks. Guests are advised to sign up to talks at
www.brownslondonartweekend.com
A large team of volunteers will be on hand to help visitors navigate their way between the discrete upstairs salons of old master dealers to the cavernous white halls of the leading contemporary galleries and auction houses, and whilst it will prove almost impossible to take in everything on offer, there will be a series of suggested themed routes and formal tours from Brown's Hotel. Paul Smith, Nicole Farhi and Kate Bryan are amongst those who have recommended themed art walks around their favourite galleries. The full programme of talks, tours and walks that will be taking place over Brown's London Art Weekend can be found at
www.brownslondonartweekend.com