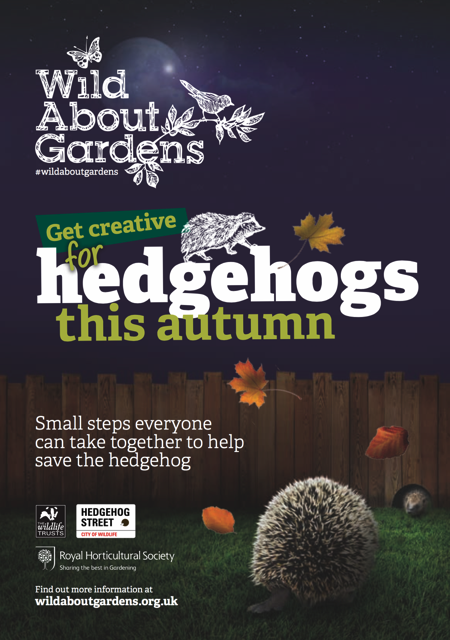 Gardeners encouraged to unite to save the nation's hedgehogs
Wild About Gardens Week: Monday 26 October to Sunday 1 November 2015
Wild About Gardens Week, the annual celebration of garden wildlife hosted by the Royal Horticultural Society and The Wildlife Trusts, is teaming up with Hedgehog Street this year to highlight how gardeners can help our hedgehogs. This much-loved creature is declining in Britain as fast as the tiger.
Hedgehogs are in trouble
– they have declined by 30% in the last 10 years alone and there are now thought to be fewer than one million left in the UK. To help encourage people right across Britain to think about how hedgehog friendly their gardens, schools and community spaces are, this year's Wild About Gardens Week will form a week-long call to action and a celebration of the humble hedgehog, packed with events, competitions and opportunities to get stuck in. This will include:
• A national call to action to create hedgehog holes in fences – a handy 13cm by 13cm template can be downloaded from the Wild About Gardens Week website.
• A competition to design the best hedgehog home. There will be three categories: individual, group and school. The prizes will range from a trail camera to a visit from a hedgehog expert. Closing date: Monday 9 November 2015.
• A host of hedgehog-themed events around the UK, from talks and workshops to community activities. At RHS Garden Harlow Carr, a new garden will be launched in participation with Hedgehog Street, showcasing hedgehog friendly planting and design. Add your event or search for those happening near you at: www.wildaboutgardensweek.org.uk/events
• A downloadable new booklet, available from the Wild About Gardens Week website, will demonstrate steps you can take to help hedgehogs in your garden.
• All information at:
www.wildaboutgardensweek.org.uk
Twiggy, Patron of the British Hedgehog Preservation Society, said:
"Seeing hedgehogs in our garden when I was a child was a magical experience. Now we all need to help these special mammals – and there's so much that gardeners can do to reverse their decline. You can cut a small hedgehog hole at the bottom of your garden fence, leave wild nesting and hibernation areas, ditch the slug pellets and check that bonfire before striking the match! All so easy to do. Please help these wonderful creatures"
Hedgehog facts and figures:
• Hedgehog numbers have fallen by 30% since 2002
• Today there are estimated to be fewer than 1 million hedgehogs left in the UK. The main drivers are thought to be: declining hedgerow quality; the over-management of parks and green space; loss of gardens to paving/decking; reduced insect prey from chemical use in gardens and on farmland; loss of grazing land; the fragmentation of land by roads, fencing and increasing density of native predators.
• Adult hedgehogs travel between 1-2 kilometres per night over home ranges between 10-30 hectares in size.
For more information about how to help hedgehogs please see notes below or our new 'Get creative for hedgehogs this autumn' booklet – now on the
website
.