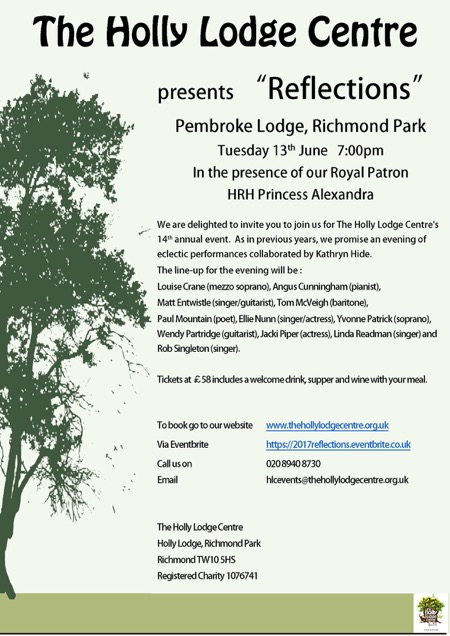 Richmond Park Reflections Returns! Pembroke Lodge, Richmond Park Tuesday 13 June
The Holly Lodge Centre in Richmond Park presents Richmond Park Reflections at Pembroke Lodge for the 14th consecutive year on Tuesday 13 June – 7:00 pm for 7:30 pm. As in previous years, we feature an evening of eclectic entertainment collaborated by Kathryn Hide. Ticket includes a welcome drink, supper and wine with your meal.
The line-up for the evening will be:-
Louise Crane – mezzo soprano with extensive operatic credits including Glyndebourne, ENO, and others in the UK and abroad.
Angus Cunningham – accomplished pianist and accompanist, he also plays the organ, harpiscord and clarinet.
Matt Entwistle – singer/guitarist
Tom McVeigh – baritone who performed in various operatic roles including Royal Albert Hall, The Royal Opera House, Scottish Opera and various West End theatres.
Paul Mountain – poet.
Ellie Nunn – singer/actress who has performed in various stage productions.
Yvonne Patrick – soprano who performed in various theatres including Glyndebourne Fesival Opear, Welsh National Opera and Garsington Opera.
Wendy Partridge and Linda Readman - a sister duo who are respectively a classical guitarist and a professional singer who loves jazz and folk music.
Jacki Piper - an actress who has performed in theatres throughout UK and abroad.
Rob Singleton – singer.
To book your tickets visit >>>
eventbrite.co.uk