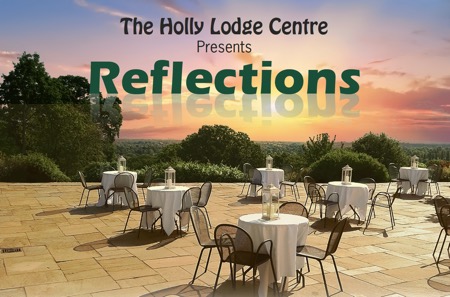 For those who like to dine out in style, with a generous helping of entertainment on the side, there's a mouth-watering event coming up on 5 June this year at Pembroke Lodge, in Richmond Park.
Discerning diners are being urged to check their diaries and book now, for an evening of 'Reflections' - a flagship annual fund raising- event in support of The Holly Lodge Centre, which is a small but very worthwhile local charity, based in Richmond park.
Music, poetry and storytelling
The Belvedere Suite at Pembroke Lodge has been booked exclusively for the occasion and on arrival, guests will be shown to the adjoining terrace, where they can contemplate stunning views of the Surrey Hills before tucking into a buffet supper.
For this 16th year, there will be music to suit every taste, from operatic arias to boogie woogie blues – and everything in between, including folk, jazz and a smattering of Les Miserables.
On a more literary note, Poet Alison Hill will recite from her collection Sisters in Spitfires, which vividly and wistfully celebrates the women who flew with the Air Transport Auxiliary during World War ll.
Giles Abbott will also be in the line-up. Giles took up storytelling professionally when he lost most of his vision and he has since won much acclaim. His stories are rooted in tradition which he like to bring 'face to face with now'.
About the Holly Lodge Centre
As well as enjoying a wonderful summer evening, guests will have the satisfaction of supporting a very deserving local charity.
The Holly Lodge Centre was conceived to make learning fun for people of all ages, but especially for those with learning difficulties or other disabilities.
Nestling in the heart of Richmond Park, the Centre provides the perfect habitat to bring nature, science and history vividly to life.
David Attenborough calls small charity a 'huge treasure'
Patron David Attenborough can be seen on the Centre website as he talks to young explorers and opens the Nature trail, which has since won acclaim as an award-winning feature.
Outside, there are many other facilities, including a well-stocked kitchen garden, stables, a dipping pond, bird-watching hide, solar fountain and an open-air theatre.
Inside, there is a complete re-creation of a Victorian schoolhouse and pharmacy, where 'pupils' can experience Dickensian learning first- hand – and a nineteenth century pharmacy, where older visitors with dementia can make authentic Victorian soap.
Over 8000 visitors last year
Although the Holly Lodge Centre only has two paid members of staff, it is supported by an army of over 70 volunteers and many are experts in their field.
This makes it possible to offer an action-packed timetable of activities and the Centre attracts thousands of visitors every year, from schools and community groups throughout South West London.
As there is no government funding, the Holly Lodge Centre relies heavily on fund-raising activities and on donations from local individuals and businesses.
If you'd like to support this much-loved local charity - and enjoy a summer evening of 'eclectic and exclusive' entertainment in beautiful surroundings, tickets to 'Reflections' are £45. This includes a welcome drink and buffet supper with wine.
To book visit
www.thehollylodgecentre.org.uk
or contact
hlcevents@thehollylodgecentre.org.uk