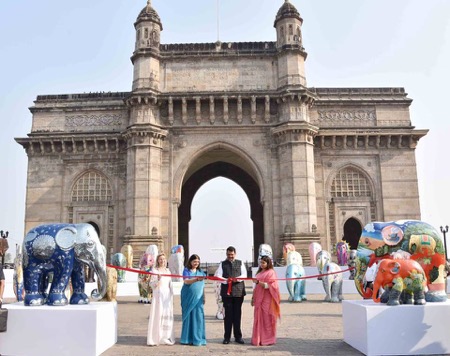 101 artist designed elephants enter the City of Mumbai through the Gateway of India
Politicians, celebrities, artists and designers came together at the Gateway of India Mumbai, where a stunning display of 101 artistic elephants were assembled to celebrate the launch of the first ever Elephant Parade India. The elephants will be paraded across the city in a series of public art exhibitions and simultaneously be sold at an online auction on Paddle8, online auction partner, going live on Wednesday 28 February 2018.
Shri Devendra Fadnavis, Hon'ble Chief Minister of Maharashtra inaugurated the parade with Smt. Maneka Gandhi, Hon'ble Minister of Women and Child Development & Founder, People for Animals and Smt. Poonam Mahajan, Hon'ble Member of Parliament (Lok Sabha) and Parade Ambassador.
The inauguration was attended by key supporters of Elephant Family including Natasha Poonawalla, Vikram Goyal and Beenu Bawa along with artists, designers and celebrities including Rohit Bal, Ashiesh Shah, Michelle Poonawalla, Aradhana Seth, Mozez Singh, Mehr Rampal, Dhruvi Acharya, Pranab Das, Jennifer Winget and Sehban Azim . Dr Sandeep Kr Tiwari, of the Wildlife Trust of India - Elephant Family's biggest conservation partner and the organisation pioneering the 101 corridor solution for India's elephants also attended.
Created as part of the UK India Year of Culture, Elephant Parade India is organised by Elephant Family in association with Good Earth and in partnership with the Wildlife Trust of India. The sales generated through the online auction will raise funds to secure 101 crucial Indian elephant corridors, the pathways that elephants depend upon to get from one forest feeding ground to the next.
The exhibition dates and venues across the city of Mumbai include:

March 2-6: Priyadarshini Park
March 2-6: Shri Siddhivinayak Mandir
March 2-6: High Street Phoenix Lower Parel
March 2-6: Sophia's College for Women
March 2-6: Radio One office Lower Parel
March 3-7: Worli Sea Face
March 8-11: R City mall Ghatkopar, Phoenix Market City Kurla, Grand Hyatt-Kalina
March 14-18: Carter Road beach and amphitheatre; Bandra Fort; Infiniti Malls Malad & Andheri; Oberoi Mall; Taj Land's End, Bandra; Bombay Art Society, Bandra
Ruth Ganesh, Trustee Elephant Family said:
"We dreamed of the Gateway of India to launch our herd and never quite believed it would come true. Today made us feel like children in a sweet shop on a sugar high. Thank you and get ready Mumbai - these elephants will bring you so much joy."
Poonam Mahajan, Parade Ambassador added:
"Having worked as an environmentalist and animal lover for so long, I was thrilled to be approached by the Elephant Family to support the same cause which we have been working on with People for Animals for Asiatic Elephants. It's important to us as over the past 100 years we've lost 90% of Asian Elephants, and now as nature, the environment and human beings all co-exist together, awareness is now coming, and it is time for action. By showcasing these beautifully painted 101 elephants by renowned artists and designers all across the city of Mumbai we are bringing everyone together to increase that awareness. Through this initiative we'd like to raise significant funds to help India's 101 corridors for elephants, and build the crucial rescue centres around the forests that are so needed. This wonderful art exhibition we have launched is the first step and the exhibition is open to all Mumbaikars ."
Please visit
www.elephant-family.org