Stylish Christmas Drinks
Haig Club Winter Spiced Espresso Martini

Dick Bradsell's classic cocktail is given a decadent and delightful holiday twist
50ml Haig Club
50ml Crème de Cacao
50ml Espresso
1 x Cinnamon

Clubman & Cola Old Fashioned

A modern take on a classic whisky drink which enhances the caramel flavours of the cola and the vanilla flavours of Clubman
50 ml Haig Club Clubman
1 x Brown Sugar
25ml Cola
25ml Sweet Vermouth
1 twist of Cherry & Orange Peel


Clubman & Cola

The sweet, vanilla flavour of Clubman combines perfectly with the smooth caramel of cola to create a refreshing drink with a vibrant, smooth finish
50 ml Haig Club Clubman
250ml Cola
Slice of lime
Stylish Christmas Gifts from HAIG CLUB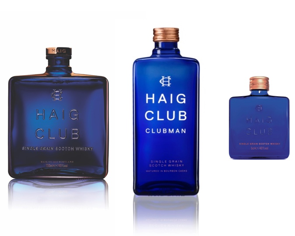 Up the style stakes this Christmas season with the gift of HAIG CLUB, the stunning Single Grain Scotch Whisky from the House of Haig, created in partnership with David Beckham. With its unique and striking square bottle design, HAIG CLUB brings a contemporary twist to Scotch and is a flawlessly stylish Christmas gift for both whisky lovers and newcomers to the Scotch scene.
Crafted using a unique process that combines grain whisky from three cask types, HAIG CLUB offers a fresh, clean flavour with sweet notes of butterscotch and toffee for a deliciously smooth taste. This versatile Scotch works wonderfully over ice, in long drinks, or cocktails – making for the perfect drinkable gift this festive season, whatever your loved one's style.
HAIG CLUB CLUBMAN is the latest stylish addition to the House of Haig collection. With its vibrant and modern aesthetic, CLUBMAN inherits the same bold and progressive spirit as Haig Club, with the liquid encased in a distinctive elongated square bottle which creates a stand-out silhouette.
HAIG CLUB CLUBMAN has been matured exclusively in American Oak casks that have previously held bourbon, allowing the sweet, gentle Single Grain Scotch Whisky from Cameronbridge to interact with the vanilla, butterscotch and sweet toffee flavours found in the casks. The result is a wonderfully smooth and sweet Scotch which pairs beautifully with cola.
A charmingly chic miniature HAIG CLUB (5cl) is also available, making Haig Club the ultimate luxury stocking filler and party accessory this Christmas.
For more information visit:
www.haigclub.com