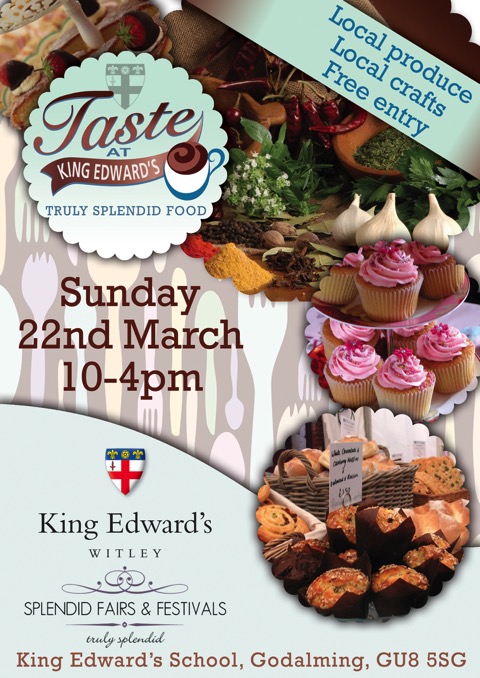 TASTE SENSATION SUNDAY

Treat your taste buds to a truly splendid gastronomic experience by visiting 'Taste', an exciting new food and crafts festival hosted by King Edward's School in Witley.
The event is being run by seasoned event organisers Splendid Fairs and Festivals and is free to members of the general public. 'Taste' will see the School's exhibition hall transformed into a bustling food market, showcasing the very best culinary delights produced by locally sourced producers. From scrumptious sushi to award winning curry sauces and pickles, from perfect pizzas to artisan breads and pastries, the list of delicious gourmet goodies on display is endless - and even if you don't buy, you certainly won't go home hungry after visiting the wide range of exhibitors! The festival will also include an array of stalls featuring local crafts.
Exhibitors include:

The Tinderbox – Woodfire pizza
Flax & Mallow – Country garden gifts and accessories
Let's Sushi – Packed sushi and sushi ingredients
RSPB – Conservation work
ollo foods – Award winning curry sauces and pickles, Indian street food
Jenny Robbins – Handmade fused glass pieces, pendants, dishes, platters and bowls
Chalk Hill Bakery – Artisan breads and pastries
Chilli Jam Factory – Chilli jams, chutneys and traditional / unusual jams
Taste of Vietnam – Offering delicious traditional cuisine from Vietnam
Spotted Beetroot Designs – Handmade jewellery
Dulci Bella Marshamallows – Handmade handpiped marshmallows and lollipops
Bee Cosmetics – Honey, honey fudge and natural skin care products made from beeswax and honey, beeswax candles and polish
Cocoa Antics – Hot chocolate spoons
My Secret Kitchen – 'secret' products to transform any meal
Garlic Wood Farm – Serving steak burgers, rare breed pork and herb sausages
Jimmy Ginger's Fine Chillies – Savour the hottest tastes in town
Podgy Pieman – pick of the finest pies and sausage rolls
Riverford Home Delivery – Organic vegetables, fruit and meat delivered directly to your door
The Ice Cream Bike – Cool down with the ultimate iced treat
Sugarush – selection of sweet treats
The Art of Curry – Freshly cooked artisan curry sauces
Taste is open from 10.00 am to 4.00 pm on Sunday 22 March. Ample free parking is also available.
For further details contact
info@splendidoccasions.co.uk
or
marketing@kesw.org
.