11/07/18 16:16 Filed in:
Whats On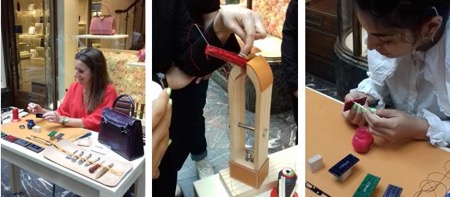 Kwanpen celebrates its 80th anniversary at Burlington Arcade
This week at Burlington Arcade, KWANPEN, a Singapore-based manufacturer and retailer specialising in luxury handmade crocodile and exotic leather handbags and accessories since 1938, celebrate their 80th Anniversary with a showcase of fine craftsmanship. Until this Sunday 15th, from 12-3pm, will be a live demonstration of the leatherworking techniques unique to the crafting of crocodile leather.
zambuni.com
08/02/18 22:38 Filed in:
What's On
| Valentine's

What is so personal and unique that no one else will have, to give to your Valentine.
The sense tour of the Burlington Arcade.
The most uniquely perfect gift bespoke for the one you love, beautiful fragrance brands such as Frederic Malle, Penhaligon's and Roja Parfums will take you and your loved one on a sensory experience to create an elite bespoke sent individual to your partner.
This is the ultimate luxury Valentines Day experience for the man or woman who has it all. The scent specialists at the stores will spend time with you and your Valentine getting to know their likes and dislikes, not only with scent but additional information helps these specialists craft a selection of scents to suit your preference may that be floral or aromatic, or a new blend of fragrances.
The specialist will see which scents trigger happy memories in your loved one and help them understand the ingredients which appeal to them, able to give them an insight into the world of fragrance. Ultimately to deliver a bespoke fragrance as a gift from you to your Valentine this special gift will stay with your love always, and the experience will be a treasured memory.
For more information please visit >
www.burlingtonarcade.com