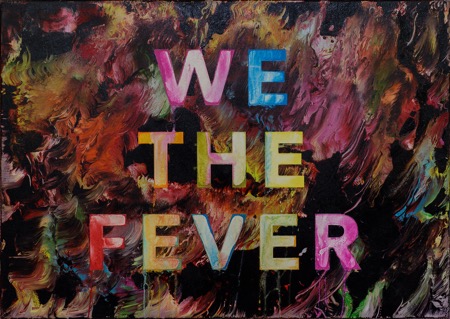 A solo show by artist David Walker
Lawrence Alkin Gallery: 17 November – 9 December 2017
Press and Private View: Thursday 16 November 6-8pm


In November, Berlin-based street artist David Walker will unveil a brand new body of work at London's Lawrence Alkin Gallery.
Featuring several 'firsts' for the artist predominately known for his large-scale female portraits, Half A World Passed Me By includes works of both female and male sitters.
The show sees the introduction of brushes, acrylics and new techniques for Walker, whose previous works were made exclusively freehand with spray paint. On his new approach, Walker commented: "Although the spray paint medium is still present in this new body of work, I feel using new approaches and materials has allowed me a fresh dexterity and an opportunity to mature as a painter."
Half A World Passed Me By also includes figurative works, studies and sketches, and Walker will introduce a series of text-based paintings featuring his own writing.
Collaborating with Berlin based multidisciplinary artist Yuli Gates on a number of pieces within the show, David has also used Yuli as a model for some paintings. Together Walker and Gates have created works that juxtapose form and flora, fusing painting with hand embroidery techniques.
There will also be separate collaborations with German graffiti artists turned contemporary painters, Base 23 and Mina.
The show title 'Half A World Passed Me By' contains various personal references, in keeping with this new body of work. WaIker explains: "I have been completely blind in my right eye since birth. It's not common knowledge as I didn't want it to be used it as a USP for my work. I also turned 40 last year, coinciding with one of the most difficult periods in my life for many reasons. In the aftermath I feel far more fearless as a person and artist and far more comfortable to invite people further into my world.
"Nowadays I'm more interested in making my work more intimate, I endeavour to create things that are an extension of my life and experience, the people around me and my reality."
Half A World Passed Me By is made up of around 25 works, featuring male and female portraits, figurate paintings, form and flora and poetic texts. The pieces range from 25cm x 25cm up to 160cm x 220cm and have been created using a mix of spray paint, acrylic, ink and embroidery. The show is split over two levels at Lawrence Alkin Gallery, the top floor focusing on portrait and figurative work and the downstairs showcasing new text based work, portrait studies and collaborations.
Walker's last London show was in November 2014 at the Hoxton Arches in conjunction with Lawrence Alkin Gallery and was a sell-out show. Since then, Walker has been busy painting large-scale murals on streets in France, Denmark, Belgium and New York. He also recently created pieces for the Street Art Museum in Amsterdam and the just-opened Urban Nation Museum for urban contemporary art in Berlin.
Born in London, Walker is now based in Berlin and has a studio in a former primary school in Kreuzberg, one of the few buildings in the area to survive the war. Walker comments on his now-home: "Berlin is full of life and inspiration, there is enough here to feed you forever."
Half A World Passed Me By will be on display from Friday 17 November – Saturday 9 December at Lawrence Alkin Gallery, 42 New Compton Street London WC2H 8DA
www.lawrencealkingallery.com
@lagalleryart