20/05/15 12:02 Filed in:
Loseley Park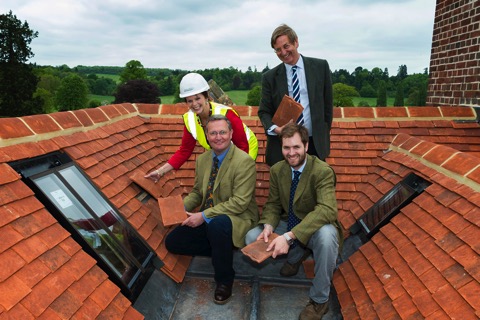 Loseley Park - A stately home for all occasions
On Friday May 15 Loseley Park celebrated the completion of its new roof – the first complete re-roofing in nearly 160 years. 90,000 deep orange tiles have replaced the old slate and a party of 60 attended the event, including The Mayor of Guildford, Nikki Nelson-Smith, and Anne Milton, MP for Guildford. The work started at the end of September, using 550 tons of scaffolding soaring 100 foot high and stretching 200 feet across the whole of the House.
A magnificent screen with a giant photo of the façade covered up the scaffolding for the past seven months and 30 men worked on the site at any one time. Before going up to lay the last two tiles on the roof itself, Anne Milton toasted the new roof: "It's a huge privilege to be here today and everyone has played their part. I'd like to thank the More-Molyneux family for this House, which is part of our history in Guildford."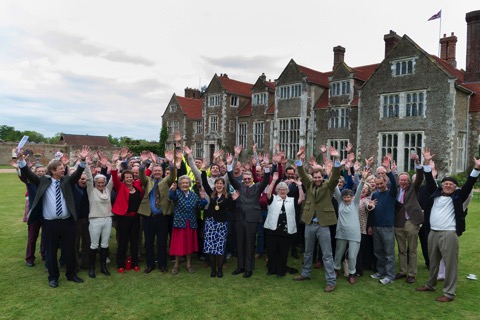 Mike More-Molyneux, Loseley's owner, said: "To say we are thrilled would be a gross understatement. It's lovely to be celebrating this very special occasion and everyone has worked so hard and with such skill to achieve the end result. We really do appreciate it. We also feel that the tiles have mellowed the house and also as a result brought out the colour of the stone."
Mike is the direct descendant of Sir William More, who built the manor in 1562 at the behest of Elizabeth I, who stayed with her entire Court no less than four times during her reign. "Loseley is deeply rooted in history and it is extraordinary to think that the last time we had a new roof was 1856 when Queen Victoria was instituting The Victoria Cross, and The National Gallery was just opening in London."
For more information about Loseley Park visit >>>
www.loseley-park.co.uk