07/07/17 10:12 Filed in:
What's On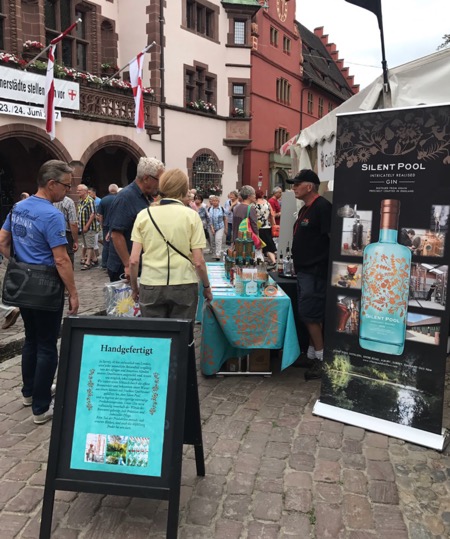 Silent Pool Distillery flew the flag for Guildford's dynamic entrepreneurial spirit at an international market in Germany last weekend.
The two year-old company was invited by Freiburg, Guildford's twin town, to come to its biennial 'Sister Cities' Market, where representatives from its other nine 'twins' - Besançon, Innsbruck, Padua, Madison USA, Matsuyama, Lviv, Granada, Isfahan and Suwon, also had stands promoting their local specialities.

Guildford is one of Freiburg's longest running twin towns. They linked nearly 40 years ago and it was through the 2016 Mayor of Guildford, Gordon Jackson, that Silent Pool Gin found its way onto the stall in the historic market square. He had taken a bottle of Silent Pool Gin as a gift for his opposite number on an earlier visit to Freiburg and it proved a popular choice!
The Guildford Twinning Committee volunteers served tea and cakes and Silent Pool Distillery director Ian McCulloch and chief bottler Joe Van den Berg presided over a Silent Pool stall laden with their full range of spirits. They even took the trouble to get all their branding and information translated into German for the occasion!
"The weather was lovely, everyone was very friendly and they really liked Silent Pool Gin," said Ian. "Freiburg is a beautiful city and it was a great opportunity to go there and represent the best of Guildford."
The Silent Pool Distillers is a new artisan distillery nestled under the North Downs in Albury, Surrey. It specializes in entirely hand-crafted spirits using a range of botanicals – fruits, flowers, spices, herbs – to capture the essence of the Surrey Hills Area of Outstanding Natural Beauty and the bounty of English orchards, gardens and hedgerows. Silent Pool Gin is now exported across Europe and soon to the US, as well as available nationally and at local farmer's markets.
The still is powered by a wood fired boiler using logs from the Duke of Northumberland's Albury Estate and water comes from the spring-fed Silent Pool. The pool itself, just below the distillery's converted farm buildings, is the subject of wonderful romantic medieval legend. Visit
silentpooldistillers.com