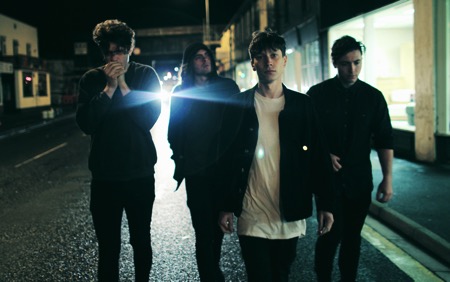 Announce Stranger Days EP due March 25 via Scruff of the Neck records
October Drift announce their debut EP Stranger Days for release via Scruff Of The Neck Records on March 25, with a subsequent UK tour beginning with a sold-out show at Manchester's St Phillips Church.
Lead track 'Losing My Touch' sets a stark tone tinged with melancholy, "I'm silver all the time" being the central lyrical motif. "It's a song about self-doubt", frontman Kiran Roy explains. "When you question whether you've made the right decisions, how the lifestyle of being in a band has put a strain on a relationship, the constantly being away, having no money and having to work minimum wage jobs to fund it. This song is about questioning whether it's all worth it, or whether we're just chasing a deluded dream whilst we watch other opportunities pass us by."
Stream 'Losing My Touch' on SoundCloud here.
Elsewhere tracks like 'Still Here' battle the difference between imaginary worlds and what's real, as swirling soundscapes send the band soaring to their epic best over Chris Holmes' unshakable drumming. 'Champagne' brings past romances back to life as old ground is re-tread, with meditative EP closer 'I Left My Heart In Amiens' bestowing a modern day 'Blowing In The Wind' upon a paranoid and direction-less generation.
Having spent 2015 selling out venues up and down the UK off the back of their acclaimed first singles, 'Whoever', 'You Are, You Are' and 'Robots', which gained support from the likes of BBC 6Music's Steve Lamacq, Radio X's John Kennedy, Q Magazine, Clash and more, the Stranger Days EP comes inspired by the duality of life on the road, before returning home to part-time jobs in bars, bowling alleys and super markets in a town with no music scene.
After writing together informally for over six years, Stranger Days sees October Drift as one of the most focussed and sonically ambitious bands on the UK independent circuit. Based in Somerset, the band's studio has quickly become the heart of the group when not on the road - whilst recording early demo's it even became their home for a month, as they couldn't afford the petrol to keep travelling between the studio and their homes across their remote countryside locale.
Following sold-out 2015 gigs in Bristol, Leeds, Sheffield and London, 2016 has already seen a performance at BBC 6Music Festival, with and a 15 date UK tour beginning March 18 at Manchester's St Philips Church.
October Drift are: Kiran Roy (vocals, guitar), Chris Holmes (drums), Alex Bispham (bass) & Daniel Young (guitar).
Tour Dates
March
18 Manchester, St Philips Church SOLD OUT
21 Guildford, The Boiler Room
22 London, The Old Blue Last
23 Oxford, The Bullingdon
24 Bath, Moles
25 Liverpool, Maguire Pizza Bar
26 Manchester, Deaf Institute
27 Glasgow, The Buff Club
28 Edinburgh, Bannermans
29 Leeds, Oporto
31 Hertford, Dog & Whistle
April
1 Scunthorpe, Café Indiependent
2 Sheffield, The Leadmill SOLD OUT
7 Cardiff, Undertone
9 Bristol, The Louisiana
July
22 - 24 Tramlines Festival, Sheffield