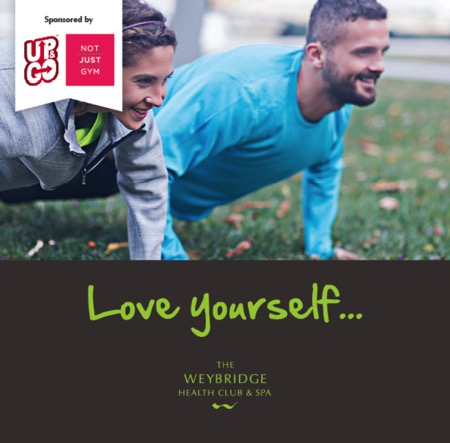 'Love yourself' this Autumn with the Weybridge Health Club & Spa
In association with Up&Go and Not Just Gym

The Weybridge Health Club & Spa are running an exciting competition to help transform the life of one deserving Surrey resident.
The competition prize is a six month package of bespoke health and wellbeing support worth over £3,500, to help one individual to get fitter, improve their health and to feel great on the inside and out.
The health club is looking to give back to the local community by supporting someone who will really benefit from the life-changing support. Perhaps someone recovering from an illness or injury, someone who has overcome great challenges in their life, helped others selflessly or simply shown amazing strength in difficult times.
The huge prize package of support consists of:
• Six months membership at The Weybridge Health Club & Spa
• Three intensive Personal Training sessions every week with the club's expert fitness team
• Six spa treatments or massages in the onsite beauty Spa
• £100 of club vouchers for healthy food and drink at the club café
• A relaxing spa day at the club with treatments and lunch for the winner and a friend
• A daily supply of healthy 'Up&Go' breakfast drinks
• £50 voucher to spend on sportswear at Not Just Gym, Weybridge
The competition is open to men and women of all ages and individuals can submit their own entry or nominate their friends and family to win the prize. Everyone who enters or nominates will automatically receive a pass for a free day at the club, worth £20.
To enter the competition, individuals should submit their details at
www.theweybridgeclub.com
with just one sentence stating why they think they, or their friend, deserve to win.
Nominations must be received before 11 January 2016.
The Weybridge Health Club & Spa
Walton Lane, Weybridge, Surrey KT13 8QA
enquiries@theweybridgeclub.com
www.theweybridgeclub.com
Text HEALTHY to 81025 for more information.