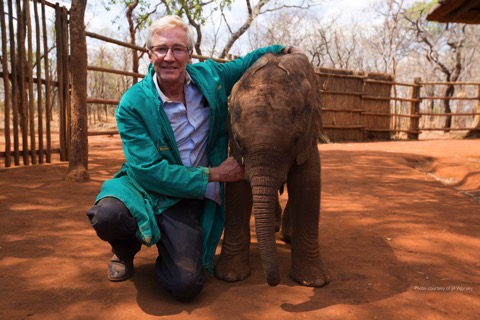 I left my heart in Lusaka at the elephant orphanage. I was lucky enough to film there two years ago and I spent nearly ten days with the elephants there and in particular a baby elephant called Nkala. His mother had been murdered by poachers and he was a very timid little chap, he kept well away from all the other elephants – he was scared of them – he wouldn't even go in the mud. He kept himself to himself and a sort of little bond grew between us and when something like that happens it's magical because it's a once in a lifetime experience. It is something I will never, ever, ever forget.
I got quite involved in the place, and to tell you the truth at the end of the shoot I announced to the crew, I'm not coming home…and they said you've got to, you've got six weeks of chat shows to do … and I said anybody can do that, but this is a special job, this is something truly special. And I'll be honest with you, it took quite a lot of persuasion to get me away from the elephants and get me on to the plane home.
But I have never, ever forgotten them and I went back last year and my boy, that's Nkala, has grown into a big healthy, hearty, jolly elephant and he joins in all the fun. When he first saw me again after a year I thought he must have forgotten me but he hadn't … He was like a small child at a party, he was embarrassed and hid behind the other elephants and was quite coquettish, he'd peep out to look at me. Eventually, after about half an hour, he came squeaking over and we were pals again. And again I thought; this doesn't get any better.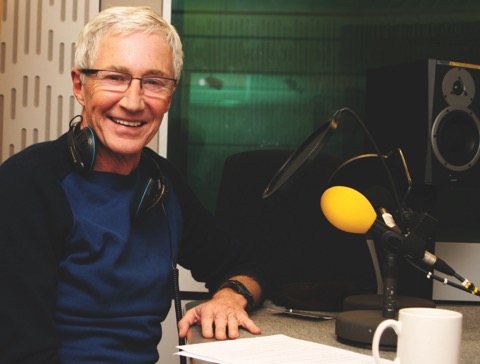 The work they do at the orphanage is remarkable, the bond between the keeper and the elephant is truly extraordinary and we have to help, because in ten years' time there won't be any wild elephants left, they'll all be gone, along with the rhino and that's shocking. Absolutely shocking. So we have to do everything in our power to help these creatures and to help the people who look after them.
I'm writing a children's book about a baby elephant and a little boy – I'm going to try and do it at the end of this year – be out next year – and all the royalties will go to the orphanage. So let's all do our bit and save the elephant.
Since 2011 an average of 20,000 African elephants have been slaughtered each year – their tusks hacked off and shipped abroad to be carved into trinkets and decorative ornaments. In the wake of this continuing illegal trade, orphaned elephants are being rescued across Africa and cared for in orphanages where resources are stretched. The David Shepherd Wildlife Foundation (DSWF) set up Zambia's first elephant orphanage and now supports its ongoing work to rescue, rehabilitate and release these precious animals back into the wild. At the time DSWF funds community outreach and education programmes to understand the importance of elephants to their environment and also funds anti-poaching patrols in Kafue National Park to ensure a safe habitat for all elephants.
For more information visit
www.davidshepherd.org