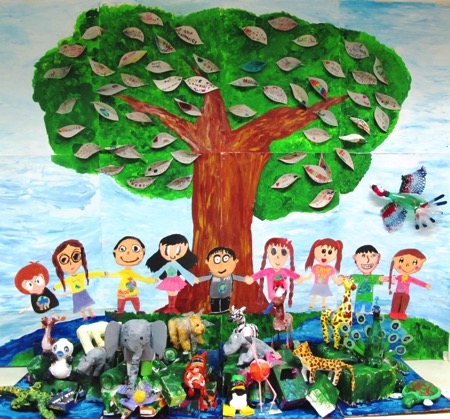 Children's Global Canvas Art & Poetry Competition 2016 now open for entries – come together to celebrate the wild wonders of our amazing world! AND meet award-winning children's illustrator and author, Catherine Rayner at the Natural History Museum
Shalford based charity, the David Shepherd Wildlife Foundation's 2016 Global Canvas Art & Poetry competition is now open for entries. This exciting annual event, which attracted involvement from over 2,000 children in 2015, is open to children of all ages up to and including 16 year-olds and gives young people the chance to come together to express their concern for the environment through art and poetry.

"The theme for 2016 is 'Wild Wonders' and we are inviting groups of children from around the world to think about the wonder of the wildlife and wild places that we share our planet with and to celebrate the biodiversity and importance of wildlife," explains competition manager, Jo Elphick.
Entry closes 29 January 2016 when wildlife artist and conservationist David Shepherd, CBE, and award-winning children's illustrator and author Catherine Rayner, will be among the judges selecting the shortlist to be displayed at the Natural History Museum, London, on Thursday 17 March.
"The sheer imagination and passion displayed when young people come together never ceases to amaze me. That children care so much about our wild world gives me real hope for the future of this beautiful planet that we call home," says wildlife artist and conservationist, David Shepherd.
David will be joined by Catherine Rayner, author and illustrator of Augustus and His Smile, at the Natural History Museum on March 17 when the overall winners will be chosen from the shortlisted exhibitors. As guest speaker, Catherine Rayner will also engage the children in the story of her life as an illustrator and author.
In 2015, television presenter Michaela Strachan attended the exhibition and prize-giving and was amazed by the variety and talent shown by the children involved.
"Clubs, classes and even whole schools had worked together; researching, designing, writing and painting to produce fantastic mini-exhibitions which demonstrate the issues our world faces," said Michaela. "I was simply astounded by the talent on show."
You can find out more about the competition, see a selection of the fabulous work from the 2015 competition and download entry forms by visiting the website at here >>>
LINK