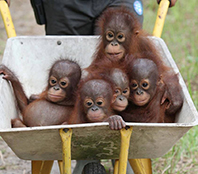 International Animal Rescue (IAR) is delighted to present 'A Summer Soiree' hosted by Baroness Soujata Devaris at her elegant home at in Belgravia, on Thursday 29th June from 6.30pm.
There will be a Silent Auction with entertainment by The Massive Violins and guests will be served champagne and canapes.
Special Guests, Celebs and entertainment at the Summer Soiree
This special event will include a musical performance from The Massive Violins (with Grace Chatto from Clean Bandit) as well as guest readings from Downton Abbey's Peter Egan. Confirmed guests include Buzz Aldrin (astronaut), Sir Ray Davies (The Kinks), Steven Cree (Outlander), Lucy Pinder (model) and Neil Morrissey (Men Behaving Badly), Lucy Speed (Eastenders) and Ampika Pickston (Housewives of Cheshire).
Orangutans are listed as Critically Endangered in West Borneo thanks to the effects of mass deforestation and human animal conflict. Alan Knight OBE, Chief Executive of International Animal Rescue will make a statement on the current situation with orangutans in West Borneo and how the rescue and rehabilitation programme of IAR is the only hope for orangutans.
In particular, IAR shall be raising money to help protect orangutans by securing more forest as part of their orangutan rescue centre in Ketapang, West Borneo. This will ensure there is enough space to rehabilitate many more rescued orangutans which can then be released into areas of protected forest.
About International Animal Rescue (IAR)

As human populations expand, wildlife comes under increasing threat. IAR rescues individual animals belonging to species like the orangutan and reintroduces them into protected areas in the wild. This emergency conservation work plays an increasingly important role in the preservation of threatened species.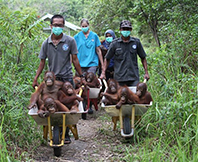 International Animal Rescue's mission is to rescue animals from suffering all over the world. From cutting free and caring for dancing bears in India, rescuing primates from captivity in Indonesia to sterilising and vaccinating stray dogs and cats in developing countries. Wherever possible, rescued animals are returned to their natural environment but some are provided with a permanent home in a sanctuary when they can no longer survive in the wild.
To book tickets for A Summer Soiree by clicking this link
www.eventbrite.co.uk
.