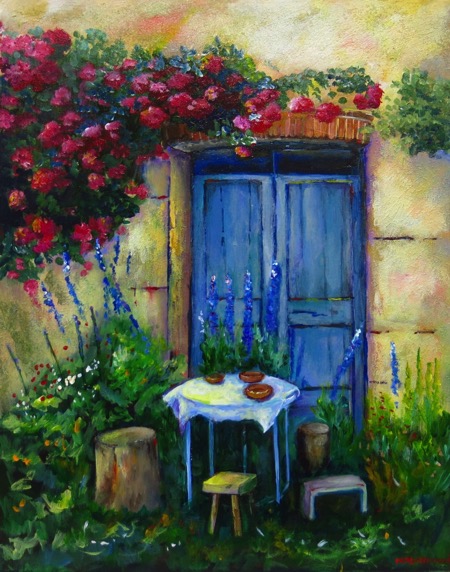 Dos and Don'ts of Buying Artwork
Image: The Back Garden by Maureen Greenwood.

Along with the knowledge of books, music and movies, knowledge of art also signifies cultural sophistication. Collecting contemporary artwork is an enjoyable process for art lovers. An increasing number of people now want a piece of art to embellish their homes and offices. Buying artwork is not as simple as it might seem to some. Let us take a look at some Dos and Don'ts of buying artwork:
Research thoroughly before buying

You do not need to be an art expert before buying but some prior research is necessary. Search on the Internet about different galleries. Buying art online may also be a good option, buying art online is a lot more popular and many galleries offer 14-day returns. However, be wary of the fakes. Read about the artist and the gallery and check for good reviews.
Do not rush

Sometimes, you may think that you have found the perfect piece of art. But being hasty is not a good idea. Think about it for some time. Does it blend well with your home? Will it have the same effect on you five years later? Answering questions like these will help you a lot before buying art.
Buy art that means something to you
Just like music, art is also about feelings and emotions. It is about human connections. Buy something that speaks to you and makes you feel things differently. Learn the story behind it. It may make you feel happy, sad, nostalgic or surprised every time you see it. The same piece of art can strike a chord with you, and possibly mean nothing to another person. Choose what you like best.
Do not try to follow others when buying art
One mistake that many people make when buying art is that they try to follow the pack. Your friend may have bought a famous painting from a well-known French artist. It does not necessarily mean that you buy that same piece of art. Art is unique. Create your own taste. Do not get influenced by peer pressure.
Choose art that you can cherish for a long time

You are most likely to keep the piece of art you bought for a long time. Therefore, choose something that you can appreciate whenever you look at it. It should be engaging and active; something that inspires deep emotions.
Do not buy art that hides into the background

Art needs to be attended and looked at. If it hides in the background, there is no point in keeping it. Make sure that everything fits in perfectly. Both your artwork and your furniture deserve separate attention.
Do not forget to ask for an authentication certificate

Finally, do not make a purchase from an unreliable source. Make sure that you have some proof about the authenticity of the piece you are buying. This will protect you from fakes.
For more tips and advice about buying artwork online visit:
www.art2arts.co.uk