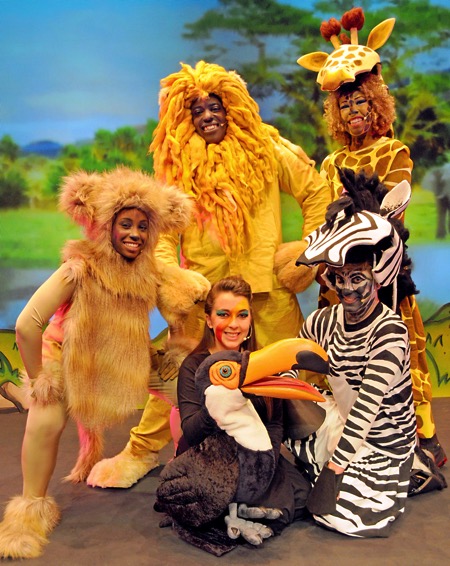 'How lion became king of Tinga Tinga land'


Local community brings west end theme -
11am and 1pm, April 16th
A brightly coloured, energetic and fun children's show due to play London's West End in May comes to the local community of Hinchley Wood this week.
How Lion Became King Of Tinga Tinga Land is set for two special performances on Saturday April 16th at 11am and 1pm at Hinchley Wood School (Claygate Lane, Hinchley Wood, Esher, KT10 0AQ).
With current theatre charges making a family trip to the theatre cost over £50 for a children's show, St Christopher's Community Hub are bringing the theatre to the local community at a price everyone can afford.
Tickets are priced £4-£10 and are available now from
St Christopher's Church Office - 0208 398 9095.
The two performances are being staged as special fundraisers for Hinchley Wood School.
How Lion Became King Of Tinga Tinga Land
is one of the best children's shows around for three to seven year olds. It's engaging and absorbing and encourages the children to sing along.
That it is so good should come as little surprise, though, because its writer and director is
Iain Lauchlan
, the creator of
Tweenies
. One of children's TV's most seasoned presenters, directors, writers and producers, Iain also created
Fun Song Factory
and presented
Finger Mouse
as well as the hugely popular Tweenies.
The story of
How Lion Became King Of Tinga Tinga Land
is straightforward enough. Banjoko the Toucan flies to Africa to warn all the animals of a danger that threatens their homeland. Deciding a king is needed to ward off this danger, a group of jungle animals vie for the job. When threatened by a pack of hungry hyenas, however, they realise there is only one animal brave enough to be king, Lutalo the lion.
The show is a complete visual treat and with enough action and audience participation to engage even the shyest child. Every animal has its own story and the musical arrangements that accompany the show provide an authentic foot-tapping African rhythm.
The accompanying award-winning book by Brian Hill and Matthew Howorth has illustrations by D.W Murray who worked on Cars and Lilo and Stitch for Disney.