14/11/16 14:04 Filed in:
charity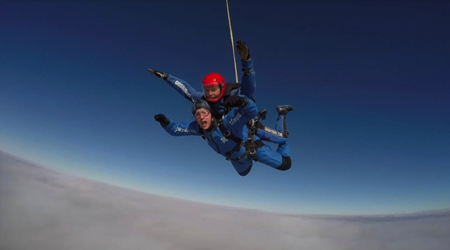 Kraig Seymour bravely took on his second charity challenge - a 10,000 foot skydive - to raise money for local children's charity Shooting Star Chase.
Kraig, 28 from Mitcham in Surrey who works in Weybridge, has now completed two jaw-dropping charity challenges in aid of the Surrey-based hospice charity. Firstly, Kraig braved a 100 metre abseil down the Spinnaker Tower in Portsmouth, stating "it looks much higher when you're stood underneath it!"
Kraig's next challenge was a hair-raising 10,000-foot sky dive at the GOSkydive centre in Salisbury, in October!
Being a father to Noah, 2 and Willow, 1, Kraig chose to fundraise for Shooting Star Chase - a leading children's hospice charity that cares for babies, children and young people with life-limiting conditions, and their families.
The father of two, who completed the challenges as part of the new Weybridge Champion Timber branch opening, can still be sponsored in-branch and online at
www.justgiving.com
Kraig says:
"The sky dive was the craziest thing I think I've ever done. I was really excited to begin with but this soon turned to nerves as the plane went higher and higher! I'm so pleased that my partner and children could come to watch and support me – it meant I had to put a brave face on regardless. I'm determined to hit my £1,000 target so am keeping my Just Giving page open a little longer – please give whatever you can for this important charity!"