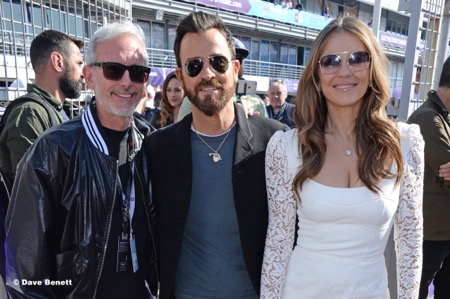 Elizabeth Hurley and Justin Theroux enjoy some grid action together as FIA Formula E Championship takes to the streets of Marrakesh
Justin Theroux and Elizabeth Hurley experienced the thrill of FIA Formula E Championship's BMW i8 car today ahead of the first race of 2019.
Following an intimate dinner ahead of the first FIA Formula E Championship race of 2019 at a luxury restaurant hidden away in the city of Marrakesh last night, the pair got up close and personal with the cars with Justin taking the wheel to put the i8 through its paces on the track, while Elizabeth was driven by FIA Formula E Championship Founder & CEO of Formula E, Alejandro Agag.
Last night, while Justin's ex wife Jennifer Aniston may be moving on, the On The Basis of Sex and Bumblebee star was moving up, leaving his recent heart break for dust as he cosied up with English actress and model Elizabeth Hurley over an exclusive candlelit dinner hosted by FIA Formula E Championship Founder and CEO Alejandro Agag in the heart of Marrakesh's vibrant medina.
The pair were also joined for dinner by Tamara Beckwith and fashion designer Patrick Cox.
Justin Theroux said: Formula E is something I have never experiences before. It is innovative, exciting, and most importantly responsible to our environment. I am so happy to be here.
Sustainability and zero emissions championship FIA Formula E is revving up for its first race of 2019 this afternoon, building on a sensational season of racing last year, which saw it visit 10 cities across five continents. Last year, races attracted top talent from Idris Elba and Orlando Bloom to Kylie Minogue – all passionate about its role in promoting a sustainable world and as the future of motor racing.
Season 5 will feature 13 races in 12 of the world's most exciting cities, including street races in Hong Kong, Paris and New York City as well as returning to China and Monaco.
FIA Formula E Championship is the world's only fully electric street racing series with a mission to advance electric vehicle technology and shape the cars of the future, for a world of zero emissions on the track, on city streets and for everyday drivers.
Find out more on where to watch at
FiaFormulaE.com
All images © Dave Benett for Formula E