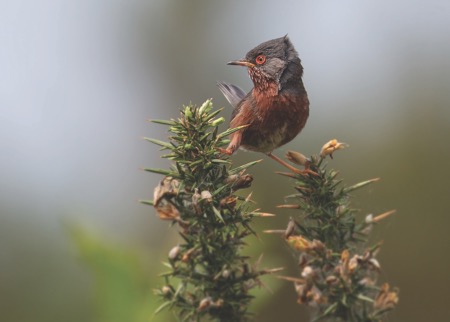 Surrey Wildlife Trust and Thames Basin Heaths Partnership welcome local people to celebrate Surrey's amazing wild heathland landscape during Heath Week 2018, from 29 July to 4 August 2018.
Surrey offers thousands of acres of vast heathland wilderness blooming with bright pink bell heather and Heath Week offers a programme of walks, talks and events to encourage everyone to explore this stunning wild landscape.
Join Surrey Wildlife Trust for a walk at Chobham Common, the largest national nature reserve in the south east of England, to discover its amazing wildlife. During an evening walk people will hear nightjars churring, the mysterious migratory bird that breeds on the Common during the summer months. Other creatures of the night, such as roding woodcock, owls and bats may be heard using bat detectors on an evening walk at Ockham Common.
Dr Mike Simmonds of University of Reading will take visitors on a journey from the Ice Age to the present day at Chobham Common, a story which has been preserved in the peat for over a thousand of years. He will reveal how the vegetation and climate have changed and what life may have been like for the prehistoric people that inhabited this dynamic landscape.
Leigh Thornton, estates manager for Surrey Wildlife Trust, said: 'With the amazing weather this summer, it has never been a better time for residents to enjoy what Surrey's countryside has to offer. Sunshine and blue skies bring out the vibrancy of the pink heather and an abundance of wildlife that you will only see in the unique landscape of Surrey's heaths.'
Other Heath Week events include a chance to meet dog behaviour specialists, the Surrey Amphibian & Reptile Group sharing the delights of rare reptiles, the Ministry of Defence talking about vital military training on heathlands near Farnham with the Fire and Rescue Service sharing how they are dealing with the current weather conditions, high risk of wildfires and fire prevention.
Sarah Bunce, senior warden for the Thames Basin Heaths Partnership, said: 'If you live or work in Woking, Guildford or the surrounding areas, come and experience our wonderful heathlands. Many people don't realise how lucky they are that a quirk of geology, climate and history has left these amazing landscapes preserved within Surrey. If it hadn't been for factors such as extensive military activity or protection for rare ground nesting birds, these heathlands might not be here today for us all to enjoy.'
The annual event is designed to encourage local people to explore and appreciate the county's vast wilderness of heathland, which spans areas between Farnham and Godalming in the south of the county to Woking and Camberley, Chobham and Cobham in the north. One of the most ancient and characteristic British landscapes, it has special conservation protection and provides a living link to our stone age past.
For further information about Heath Week 2018 or to book an event visit
surreywildlifetrust.org/heath-week