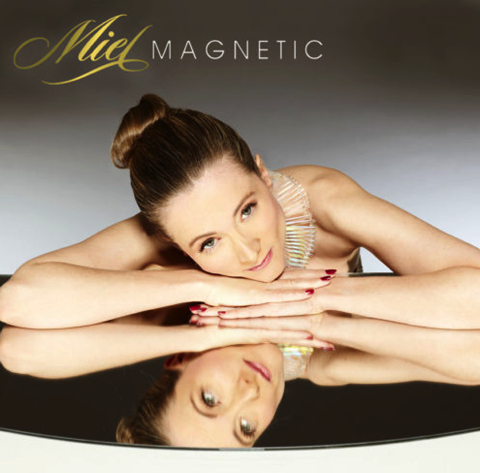 Debut album release March 9 2015

On this, her debut album, Swiss-born, London-based Miel de Botton presents a collection of deeply personal songs, in English and French, and breathes new life into her beloved chansons (Jacque Brel et al) with sensitive interpretations and innovative arrangements. Produced by Andy Wright (Simply Red, Eurythmics, Jeff Beck, Imelda May) at Abbey Road, South West Studios and State Of The Ark Studios, 'Magnetic' is presented on two discs and is the sensuous, exultant sound of a woman who is finally following her path; a woman just hitting her stride.
With coverage in the Evening Standard, You Magazine and The Telegraph, Miel's music and story is starting to spread, and fast. Her first headline performance at Chelsea's infamous The Pheasantry in November 2014 sold out, she was invited to be a special guest singing with the Jerusalem Youth Chorus at the Aldwych Theatre on their December UK Tour and played a special acoustic set at the Chelsea & Westminster Hospital as part of their healing arts programme. Miel will return to the stage on January 27th when she performs a sold out show at The Purcell Room on London's Southbank. Promising an evening that will take the audience on a trip of passion, sensuality and romance, Miel will also be joined by some very special guests from the worlds of dance and music.
Listen to Miel de Botton - Magnetic
HERE
Listen to Miel de Botton - Magnetique
HERE
Miel is clearly a woman who loves passionately and she expresses this in her songs; she dreams of a kiss from a stranger in her "dark nights" in 'Embrasse Moi'. The charming acoustic 'Vivement la Joie' is a burst of carefree happiness, Miel sounding like a footloose Vanessa Paradis. "It's a poem I wrote to cheer myself up – a tiny ode to joy!"
An excruciatingly painful love story becomes 'Beautiful You' ("Don't tell me that it was only a lie/I know what I saw…"), and that lost desire is also expressed in 'Something More'. Despite all this unrequited longing, she is full of hope that things will turn out well and she believes her songs are about finding a way to heal from past pain. 'Forest Prayer' and 'Dazzle Me Diamond' are heart reaching songs about sensuality and love and the joy to be found in our lives. 'Dazzle Me Diamond' really is about diamonds – but this synth-heavy track is mystical too, expressing a longing to be in the presence of their strength, clarity and purity. "I need your rainbow lights to reach the dark corners of my mind."
The majestically bare, Morricone-esque mantra 'Bad Men' is many a woman's rallying cry, slowly stripping layers off those debonair men who talk about forever but can't seem to follow through. This honest song explores the pain and pathos that underlies such relationships. With her title song, 'Magnetic', she talks of making her "voice become audible", of not being "left to lie in the dark". This is an epic ballad, almost a desiderata, in which she asks to be attracted magnetically to a beautiful life.
Mixing maturity and youth, this is a woman flexing her muscles, making life make sense. As she says, "I'm experiencing a depth of fulfilment I have never known."
For more information please contact Republic Media
Email:
info@republicmedia.net
Tel: 020 3213 0135