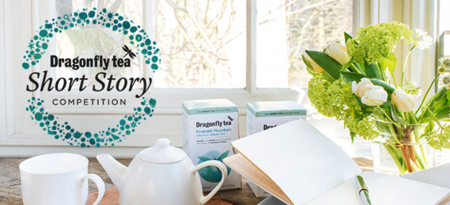 Hugless Douglas creator David Melling and Baroness Floella Benjamin, OBE will judge children's entries in the 2016 Dragonfly Tea Short Story Competition
Award-winning author-illustrator David Melling – whose Hugless Douglas series has sold more than 1.4million copies in over 26 languages – has joined the judging panel for the second year of the competition hosted in partnership with the Henley Literary Festival.
Joining David in selecting the winners across three children's age categories is television presenter Baroness Floella Benjamin, OBE DL – an actress, businesswoman, independent TV producer of award winning programmes, author of over 30 books and children's television presenter, best known for appearing in or presenting many iconic TV programmes including Play School and Play Away. This year she steps down as Chancellor of Exeter University after ten years and is passionate about making a difference to the lives of young people. Speaking about the competition, Floella explained: "Creative writing is an amazing thing for young people to do – creating characters can teach so much about seeing the world through different eyes."
Harriet Reed, Events Director at Henley Literary Festival added: "There's so much going on for children at this year's festival, from special Harry Potter and Roald Dahl events to a schools' session with Julian Clary and an exclusive family event with Great British Bake Off winner, Nadiya Hussain. It's amazing to think that three budding young writers will have their share of the limelight and hear their stories read aloud by Helen Lederer at the award ceremony in October."
Also announced this week is a partnership with Waitrose, who have nominated their central Henley store to collect children's entries at the store's Welcome Desk from Monday 8 July, via a specially designed competition box. Andrew Godman, Branch Manager at Waitrose Henley said: "We're delighted to be supporting the Henley Literary Festival this year and look forward to collecting all of the great stories entered into this year's competition."
JUDGES & PRIZES
A celebration of the intriguing and magical world of tea, this year's theme for adult writers will be 'Discovery' – from grand voyages to everyday encounters, from inspiring inventions to quiet epiphanies – while children are asked to pen a tale of 'Adventure'.
Writer and comedian Helen Lederer will judge adult entries alongside Daily Mail literary editor Sandra Parsons and acclaimed short story writer Irenosen Okojie, who is also set to host an intimate creative writing workshop at the Henley Literary Festival. Children's entries will be judged by David Melling and Floella Benjamin.
Adult entrants are invited to write a story of up to 3,000 words, with the three winning entrants taking home prizes ranging from £250 to £1,500.
The children's competition has three categories, each with a 500-word limit: 4-7, 8-11 and 12-15 years-old. The winner of each category set to receive £50-worth of book vouchers plus £100 in vouchers for their school.
To enter visit >>>
www.dragonflytea.com
closing date is 29 August 2016