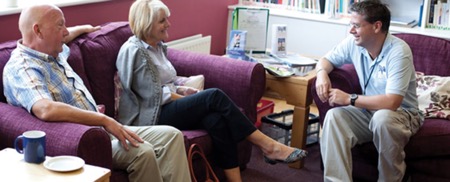 Do you know what The Fountain Centre is? Some of us find out the hard way, but many local residents have no idea that they have this wonderful facility on hand when they need it most.
The Fountain Centre is an independent charity within St Luke's Cancer Centre at the Royal Surrey County Hospital in Guildford. We offer information and support, counselling and a range of complementary therapies – to cancer patients and their families. People come to us from all corners of Surrey and beyond.
It has a wig bank and library, and can provide information about local support groups, welfare benefits and a host of specialist cancer charities. Their Family Support Service is unique in the UK, working with families from the time a parent is diagnosed – and about 25 per cent of new patients have school age children (or younger).
There are many ways in which the centre can help, dealing with the initial shock of a cancer diagnosis, minimising the side effects of chemotherapy and radiotherapy, and re-establishing confidence and well-being. It has recently been able to introduce a new service for in-patients, where a dedicated therapist visits those who are too ill to leave their hospital beds. Some therapies can help with pain, stress and stimulating the body's circulatory and immune systems. The centre is getting particularly good results using acupuncture to control hot flushes in both female and male patients.
Perhaps just as important is the feeling of sanctuary, quite unlike a hospital. One recent user explained: "Walking in the first time was like balm on irritated skin. I was totally unprepared for the welcome. I always leave the Centre feeling relaxed, listened to, supported and more cheerful."
And the husband of a patient put his side of the story: "When I was encouraged to have a reflexology treatment I wasn't sure at all. I was a copper who had worked the streets of London. I thought complementary therapies were not for me. But the therapist put me totally at ease; it was fabulous. It changed my life, allowing me to unwind during a really rough ride that lasted several years."
The Fountain Centre is run by a small team and has over 100 volunteer therapists, counsellors and welcomers. At last count it had 5,750 registered users, and offer over 700 appointments a month. The first four treatments are free; after that, patients are asked to give a small donation if they can.
The Family Support Service is lottery-funded for the next four years, but receives no funding from the government. The centre raises all the money it needs to keep going by their own efforts. It costs over £200,000 per year to run, which is tiny compared to other well-known local causes.
The centre makes the money work very hard and puts the 'fun' into fundraising whenever it can – most recently abseiling off Guildford Cathedral Tower and the annual fashion Show. The Fountain Centre keeps going, and growing, entirely through the love and generosity of the community it supports.
essence info
Website:
www.fountaincentre.org
Telephone:
01483 406619