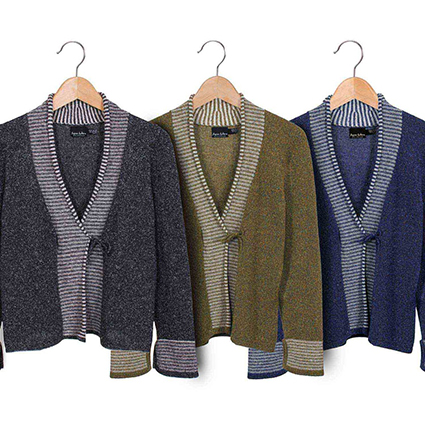 Retail entrepreneur and ex-dragon Theo Paphitis has given Molesey based Susan Holton Knitwear a Twitter Boost.
Susan Holton, owner of Susan Holton Knitwear – based in East Molesey, Surrey - tweeted Theo about her business during 'Small Business Sunday' and was one of six weekly winners to gain a retweet by Theo to his 500,000 Twitter followers. The weekly initiative, set up by Theo in 2010, now has nearly 2000 #SBS winners and supports small businesses in the UK.
Retail entrepreneur and self-confessed Shopkeeper, Theo re-tweeted Sue's message to his almost 500,000 followers last year, and as a result visitors to her website:
www.susanholtonknitwear.com
have jumped and her Twitter followers (
@SusanHoltonKnit
) are now nearly 4,000.
Earlier this month Sue collected her #SBS winners certificate at the winners conference in Birmingham, and at the same time, she had her photograph taken with Theo.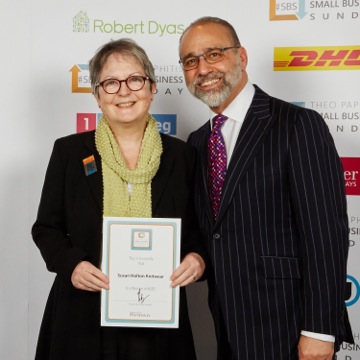 And today's exciting news, from now on, in addition to her web site, Susan Holton Knitwear can now be found on the exclusive members' selling platform
www.shopsbs.co.uk
where hundreds of winners are already selling thousands of products, from unique gifts and bespoke knitwear to pet toys and jewellery. It is another opportunity for #SBS winners to turn tweets into sales.
You'll find Sue's knitwear on ShopSBS at:
www.shopsbs.co.uk/susanholtonknitwear
Susan Holton said, "It is so helpful to have support from Theo, it's very hard trying to raise the business profile of a small business and it's great that Theo has recognised our hard work and helps spread the word to his following."
Small business champion and Ryman Stationery, Robert Dyas and Boux Avenue Chairman, Theo Paphitis, said: "We are thrilled to welcome new #SBS members every week and highlight just how important it is to support our small businesses here in the UK. My vision is that everyone who has ever won an #SBS re-tweet from me becomes part of a friendly club; like-minded individuals who can share successes and learnings. The website and Shop #SBS will also give a valuable profile to the winners chosen and I wish Susan Holton Knitwear every success."
Susan Holton said "It's lovely to be part of the #SBS winners club, Theo is very supportive and other #SBS members – who all run small businesses - are a very helpful and knowledgeable group of people".