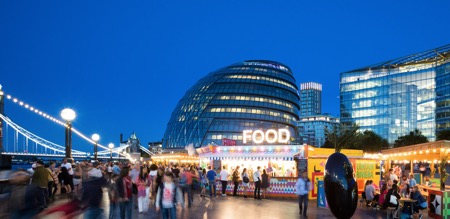 FREE SUMMER LONG EXTRAVAGANZA
FRIDAY 1 JUNE – SUNDAY 2 SEPTEMBER
London Bridge City is pleased to announce their summer long spectacular - Summer by the River. With a packed schedule of exciting outdoor events and entertainment running from Friday 1 June to Sunday 2 September it will be the largest free outdoor festival in London.
With stunning views of Tower Bridge, The Tower of London and the iconic City skyline, Summer by the River is the perfect place to celebrate all things summer. This year the site will be transformed to take on a vibrant English country garden theme.
The busy programme will ensure there is never a dull moment down by the River. With outdoor cinema and theatre, big screen summer sports (including Wimbledon, Ascot and the cricket), live comedy and music performances, fun family days, fitness classes and a host of events to let your hair down on a Friday, Summer by the River will be the ultimate London experience this summer. Please see below for day to day themes with the full programme coming soon.
No festival would be complete without a delicious array of food and drink on offer and this year, Summer by the River is joining up with the amazing teams at Flat Iron Square and Look Mum No Hands to offer a constantly changing choice of some of the Capital's finest street food housed in stunning country garden themed pop-ups.
Kicking off the holidays in style, Summer by the River will be launching on Friday 1 June, tying in perfectly with National Barbecue Week. Expect a host of vibrant street performers, music, and all the sights, smells and flavours of a true British Summer.
London Bridge City's Summer by the River info:

Dates: Friday 1 June – Sunday 2 September
Location: London Bridge City, SE1 2DB
Nearest Tube: London Bridge
Event Programme Themes:

Monday – Fitness
Tuesday – Film Night, outdoor cinema
Wednesday – Comedy
Thursday – Music
Friday – FriYay!, all singing all dancing interactive events
Saturday – Family Day
Sunday – World Music
For more information please visit
www.londonbridgecity.co.uk