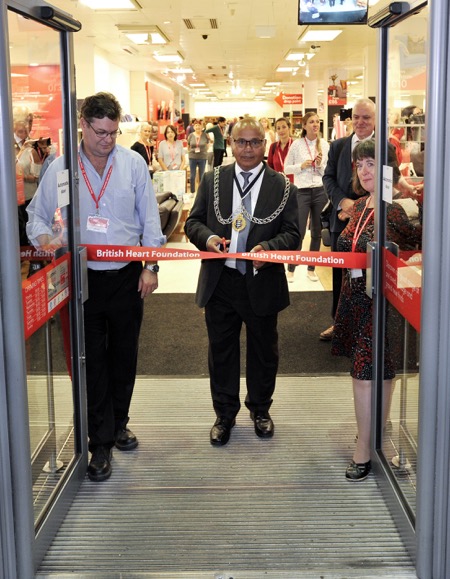 Local Mayor and Kingston University Professor join shop volunteers and staff at BHF store that will support vital heart research
The British Heart Foundation (BHF) has today opened its latest department store in Kingston, to raise vital funds for life saving heart research.
The new store at 10 Alderman Judge Mall opened its doors for the first time on Tuesday 31 July at 10am, creating new retail jobs and volunteering opportunities.
The shop is expected to be in Kingston for two years ahead of the planned regeneration of Eden Walk. The newly designed 17,000sq foot site will be one of the charity's largest stores, hosting Home and Fashion departments offering a range of good quality furniture, homeware, clothing, accessories and books at budget-friendly prices.
The store will also be a local community hub, offering shoppers valuable heart health information, running CPR training sessions, and creating retail jobs and volunteering opportunities for people of every age – from school leavers to retirees.
The store was opened by local Mayor, Councillor Thay Thayalan who joined BHF volunteers and staff to welcome the local community for a first look of the great bargains on offer. Also in attendance was CEO of the Charity Retail Association Robin Osterley and Professor Tom Quinn who is currently leading a BHF-funded study to the best way to diagnose people suspected of a having a heart attack.
Tom Quinn, Professor of Cardiovascular Nursing at Kingston University and St George's, University of London, said: "The British Heart Foundation is the most important funder of cardiovascular research in the UK. Without the money raised from their shops many vital projects would not be able to continue.
"Every 3 minutes someone loses a loved one to heart and circulatory diseases in the UK, but research can find the breakthroughs to beat those conditions. I hope that people in the local community will support this store and help it power the research that can save more lives in Kingston, and across the UK."
Rachel Andrew, Area Manager at The British Heart Foundation said: "We are so excited to have this new and innovative space in Kingston, which we hope will become a valued addition to the town centre. If you are having a clear out in the next few weeks, we would love to receive any good quality furniture, home accessories, clothes, shoes, bags and books. Donating couldn't be easier, the BHF offers a free and fast collection service for larger items and all money raised from the store will help raise vital funds for the charity's life-saving research.
"If you would rather give the gift of time we are recruiting for new volunteers, who can spare anything from a couple of hours a week to a few days, so please get in touch if you are interested."
Every item sold will help the BHF to raise vital funds for research into beating heart disease, including that undertaken at Kingston University to improve treatments for heart attacks. It will also help to fund the continued rollout of CPR training and public defibrillators in Kingston and support local heart patient groups.
There are currently around 14,000 people living with heart and circulatory disease in Kingston, including 4,000 people who have coronary heart disease and 2,000 people who have suffered a stroke. To combat these deadly diseases, the BHF currently funds around £500,000 of research at the University of Kingston and £130m of grants to Universities across London.
The store is located at 10 Alderman Judge Mall, Kingston Upon Thames, Surrey KT1 1BS.

For more information about BHF shops, please visit www.bhf.org.uk/shop

To book a free collection, call us on 0808 250 0030 or visiting www.bhf.org.uk/collection