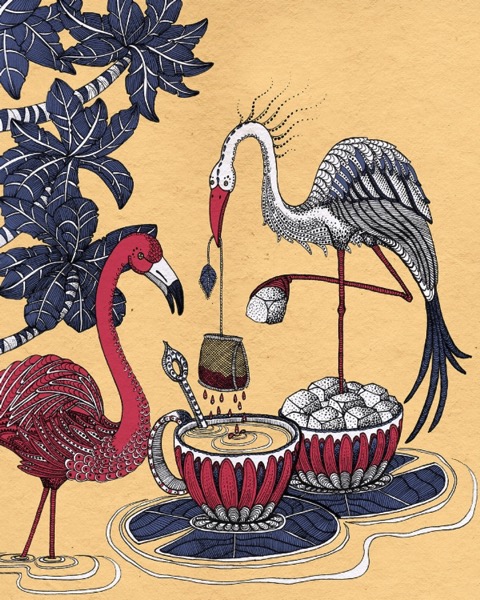 Free drop in workshop activities suitable for all the family based on the idea Mad Hatters Tea Party.

On Saturday 6 June at New Ashgate Gallery, Farnham, GU9 7PS,
www.newashgate.org.uk
11am – 3.30pm
The New Ashgate Gallery invites you to celebrate the launch of their summer craft collection, to do this they are inviting members of the public to attend a free drop-in workshop day, inspired by the Alice in Wonderland iconic storyline: the Mad Hatters Tea Party, celebrating its 150th Anniversary. All of the activities are to inspire the public (in particular young people) to create their own crockery designs based on a Tea Party. Surrey Open Studios artist Clare Waterhouse will be demonstrating her pottery, offering additional inspiration to the theme of the day.
The 6th June is also the start of this year's Surrey Artists Open Studios. During studio visits; members of the public can vote for your favourite artist who could become the Surrey Artist of the Year 2015 and win a solo show at New Ashgate Gallery. The New Ashgate Gallery supports and celebrates the quality and diversity of local and nationally produced craft. The gallery wishes to raise the awareness of their services and the craft makers they represent; highlighting the unique collections of ceramics ideal for a Tea Party, in particular a unique ceramic collection.
The New Ashgate Gallery Tea Party involves four free half day workshops in local schools including South Farnham, Abbey and St Andrews schools; in additional to the free drop in activities at the New Ashgate Gallery on Saturday 6 June.
More information:
The New Ashgate Gallery is a destination to view and buy the best of affordable contemporary art and craft by established and emerging artists and makers. New Ashgate is dedicated to promote and champion the best contemporary art and craft in the market place and to provide an unparalleled resource in Farnham, Surrey and beyond. The Gallery curates an exciting programme of changing exhibitions and has an affordable gift shop. As a not-for-profit charity, it also fosters emerging artists and makers through mentoring and touring exhibitions, working in partnership with organisations such as the University for the Creative Arts and the Crafts Council.
Contact: Caroline Jackman Gallery Director
New Ashgate Gallery, Waggon Yard, Farnham, GU9 7PS,
Telephone: 01252 713208,
Email:
caroline.jackman@newashgate.org.uk
Website:
newashgate.org.uk
Gallery Open: Tuesday – Saturday 10am – 5pm