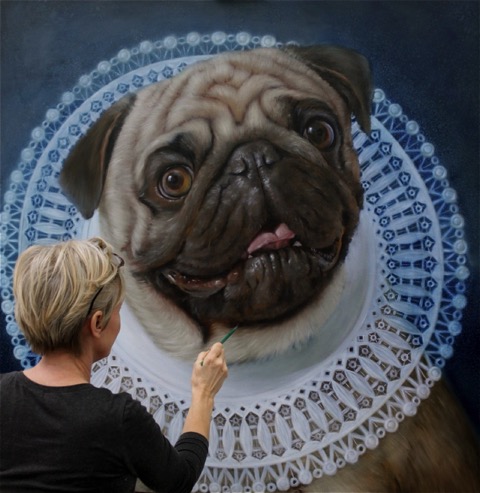 Angela Lizon revels in combining unlikely and surprising images within her paintings, and intriguing new works will be unveiled in her solo show Menagerie.

Curated by Coates and Scarry at Gallery 8, Duke Street St James, London, Menagerie opens Monday 20 April. In Menagerie, Lizon's highly distinctive menagerie of works, cats can be seen wearing Native American headdresses, pugs sport paper doily collars, paying homage to the Jacobean neck ruff and babies cavort on the backs of ostriches.
Such juxtapositions give her familiar, well-loved and often kitsch subjects unsettling and often humorous qualities. Straightforward images of an animal or a child are completely transformed into paintings which are less sentimental, more complex, supremely unnerving and almost otherworldly.
Her placement of cheap theatrical accessories, plastic props and nylon costumes or a bold change in scale metamorphoses these diverse images of people and pets. Working originally from the kitsch, girlish imagery that could be found within her daughter's bedroom posters, a simple magnification in scale enables a conversion from the small and innocuous into the monstrous.
This effect can be seen in the over-sized, glass-eyed guinea pigs that accompany a tiny ballet dancer in several works or the enormous overbred flat-faced cats, a motif to which the artist returns repeatedly.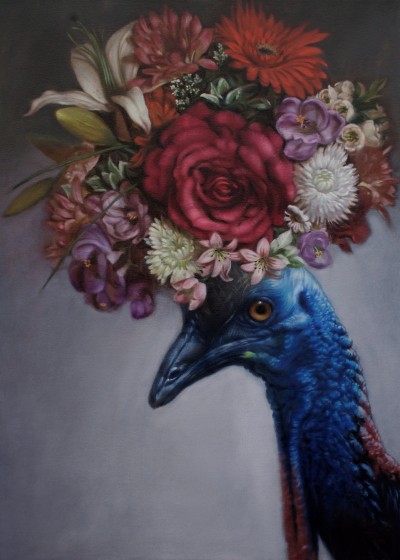 Lizon's painting process often begins with a photographic image which is subtly manipulated to achieve a specific kind of tension and the painter cites Eastern European fairy-tales and her Catholic upbringing as instrumental to the shaping, style and subject of her unique painting practice.
In particular, her images of children seem to echo the famous seventeenth-century paintings of the Spanish royal family's children by Diego Velázquez, in their striking contrast between their youthful, cherubic faces and the absurd, over-elaborate decoration of the clothes.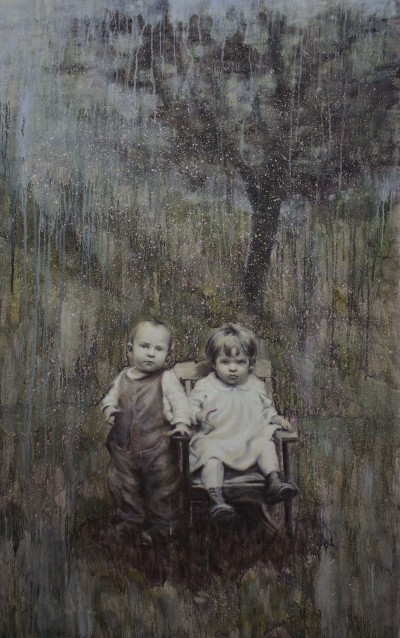 In other of her recent paintings, ceramic figurines are prominent. Lizon says of these figures
"These are items which are valued, treasured and sometimes reviled as expressions of personal identity, taste and class. Such ornaments are mass produced and often end their lives in charity shops. The journey from treasure to trash, and the memories within that, fascinate me."
Lizon elevates their status by assembling tiny paintings of these figurines to resemble the large group portraits and salon-style hang of bygone eras.
Painting in oil allows Lizon to build up her paintings in layers with the finest of surface details: the liquidity of a teardrop, the soft warmth of fur, the particular smooth gloss of a ceramic glaze and the scratchy sheen of nylon. Her traditional techniques enable her to engage with art historical portraiture on a deeper level.
Chippy Coates of Coates and Scarry says
"Each of Lizon's paintings contain numerous stories and experiences, brought to the surface by the expressions, objects and costumes that are embedded within her works. They contain a clear wit and charm, counterbalanced by a creeping sense of unease."
Menagerie - from Monday 20 April 2015 until 2 May 2015, 1100 until 1900 everyday, at Gallery 8, 8 Duke Street, St James's, London SW1Y 6BN.
www.coatesandscarry.com