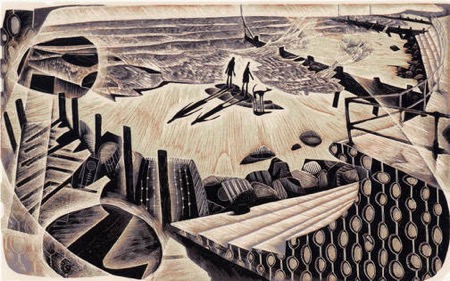 Exhibition: 5 May - 23 June 2018
Printmaker Anne Desmet RA will curate an intimate exhibition of contemporary wood engravings at Kevis House Gallery in Petworth, West Sussex. Anne Desmet is one of only three wood engravers to be elected as Academicians in the Royal Academy's 250-year history.
The show will feature the work of six artists; Anne Desmet RA, Neil Bousfield, Edwina Ellis, Peter Lawrence, Peter S Smith and Roy Willingham.
"What I hope to create is a sense of six mini solo exhibitions, each one bringing out some of the abiding threads in each artist's work." Says Desmet. "Although all of the artists regularly exhibit with the Society of Wood Engravers, none of the works shown here has ever previously been exhibited by the Society of Wood Engravers, so they will offer a wealth of unseen delights to even the most assiduous devotee of wood engraving exhibitions. All the engravings shown will offer key insights into the ongoing, long-held interests of each engraver and all are works that each artist considers seminal in their expansive oeuvre."
Neil Bousfield is a younger artist whose engravings started out as imagery in self generated novels without words, following in the grand tradition of Frans Masereel and Lynd Ward and bearing striking similarities to the characteristic noir atmosphere of Ward's 1930's engravings. More recently Bousfield has experimented with subtle overlays of printed colour, tone and pattern, developed from vigorous, keenly observed drawings of beaches, harbours and landscape near his home in Norfolk, coupled with imaginative aerial views, contours and geography of Ordnance Survey maps. " The work here explores the notion of place and home encapsulated through experience, memory and narrative," says Bousfield "made tangible within drawing and engraving."
Anne Desmet RA's chooses architectural motifs as her subject matter. However whilst her engravings depict specific places, they are also intended to represent something universal; the way light brings life to a subject; the way apparently permanent structures are poignantly prone to the ravages and redevelopments of time, weather and human intervention. Her interests also spreads into what our buildings tell us about mankind's great aspirations, follies, passions and humour.
Desmet enjoys playing with shape, form and structure - to break down and rebuild existing structures into invented or more abstract forms through the medium of collage. These small scale, highly detailed works which take, often, many weeks to create, may evoke in the viewer a sense both of timelessness or of the passage of time - or both ideas simultaneously. These are the abiding thoughts and threads that have connected her prints and collages since her first tentative engravings (in the mid 1980s) to today, whether their subject is ancient Rome London's Olympic site, Brooklyn Bridge, a derelict neo-classical interior or Eton College.
Edwina Ellis established her reputation with meticulously wrought, observational, landscape and still life engravings. Recently PhD studies have led her to experiment "with colour and compound engraving and printing and continue to augment the modular collection of engravings, vinyl cuts and linocuts developed during this research. My current aim," Ellis says, "is to harness and combine the techniques I have developed in the belief that experimental journeys close in on what it's all about."
Closer looks at Ellis's work shows a strong sense of the abstract within the particular, a sense of layering and an intricate textile reminiscent of woven textiles.
Peter Lawrence's engravings have long celebrated the glorious abstract potential of the wood engraving medium at a time when many other British practitioners stayed firmly within the figurative tradition of Bewick.
"Dark Corners, is one of the first completely abstract prints. Working from an outline drawing of forms, the engraving is largely improvised. Other prints are abstracted from life, or combine a series of differently styled engravings with an abstract form, sometimes using multiple blocks to resemble collage." says Lawrence.
Peter S Smith's engravings, like Edwina Ellis's, have a strong textural quality and a pervading sense of the abstract within the particular.
"On sunny days, while waiting for the train. I draw my shadow across the station: some of the drawings become engravings."
Smith's engravings are fascinating both as semi-abstract compositions in light and shade but also because the character of each engraved mark and the combination of marks he makes are unpredictable and unexpected.
Roy Willingham has long been concerned with the fine balance between the figurative and the abstract. His starting point is often meticulously observed drawings yet many diverse influences including Russian Constructivist graphics, Edward Wadsworth's Dazzle Ship engravings, Picasso, Matisse and a vibrant yet finely calibrated sense of colour and tone have long invested his work with great energy and originality. They are truly miniature marvels.
Refering to his print Downland, Willingham says "This print derives from the memory of a walk over the South Downs from Hassocks to Lewes and a solitary tree near Ditchling Beacon standing out against the emptiness of the downland landscape."
Kevis House Gallery hosts the Society of Wood Engravers Annual Exhibition each year (next held November - December 2018). The gallery holds a large collection of work by the wood engraver Gwenda Morgan (1908 - 1991). Kevis House also exhibits pictures by a range of contemporary artists.
For more information please visit
www.kevishouse.com