30/10/18 12:20 Filed in:
Polo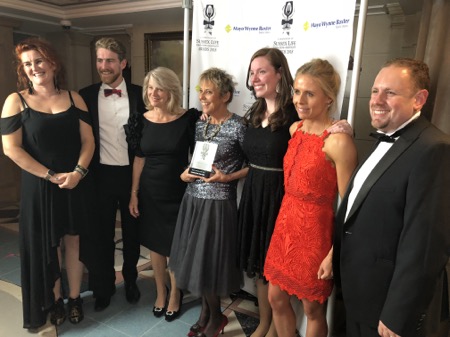 Club staff centred from 1-r Matt Simm, Vanessa Graham, Pip Menzies, Liz Higgins and Janey Delow receiving the award alongside Sussex Life magazine officials

Cowdray Park Polo Club was the proud recipient of the award for Best Visitor Attraction at the Celebration of Sussex Life Awards on 25th October.
Hosted by Sussex Life magazine at the Grand Hotel, Brighton, there were numerous categories of awards including Restaurant of the Year, Hotel of the Year, Food & Drink Product of the Year, Spa of the Year, Best West Sussex Pub and many more. Cowdray Farm Shop was also a finalist in the Farm Shop of the Year category.
The award is testament to the efforts made by Cowdray Park to bring polo to a wider, more inclusive audience. The club's pitch stated: "We proudly host the world famous Gold Cup for the British Open Polo Championship and Finals day is a brilliant family day out with spectators arriving early to grab the best viewing spot and enjoy wandering around the bars, delicious food stalls, children's funfair and shopping village while enjoying a range of entertainments. This year even the RAF Falcons Parachute Display Team dropped in." The pitch clearly resonated with the judges.
Jonathan Russell, CEO of Cowdray, said: "I am proud of the whole team for the massive behind-the-scenes effort that goes into the Gold Cup Final.. We hope that this award will indicate to the wider Sussex community that we offer not just a fantastic sporting experience but also a great day out."
Cowdray Park Polo Club's Chairman, Roderick Vere-Nicoll adds: "I am delighted to see polo at Cowdray Park recognised in such a way. The Gold Cup Final showcases the very best polo in the world and we want to share it with the wider community. We are delighted that our staff's warm and inclusive welcome has been acknowledged. Aside from the Gold Cup Final, we welcome everyone to polo throughout the season - it's a great day out."
For further information visit
www.cowdraypolo.co.uk