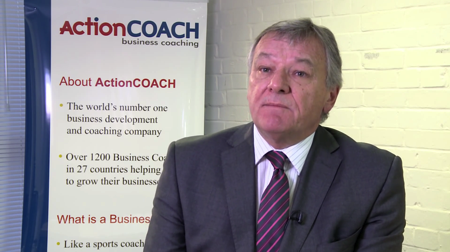 Local business growth expert steps in to save SMEs abandoned by the government
Brian Doubleday, a local business expert, is helping SMEs left in limbo by the government's shock decision to scrap its Growth Accelerator programme (GA).
This scheme provided heavily subsidised coaching to help them grow. For example, under the old GA scheme, depending on your business size for just £600 you received £3,500 worth of advice and guidance face-to-face with experts like Brian after paying VAT which was recuperable.
According to the government's Business Growth Service (BGS) website, the hugely popular, GA signed up 18,000 businesses, helping them to raise more than £100 million with a 94% approval rating. But the Chancellor ditched the programme in November 2015, leaving those who'd spent hours applying, furious, and those in mid-course exasperated as the scheme was stopped on 1 March.
"The government has given up on SMEs," says Doubleday, formerly a Marketing Director at ICI, and now a franchise owner with Action Coach, the world's leading business coaching firm. "What I do is help entrepreneurs and CEOs realise their vision and free up their time by making better choices to get better results. I help improve the way they work, so they can delegate and leave others to run the business. I also get them to think strategically, dream BIG and sharpen up their marketing and lead generation, which are key to growth.
"Ultimately I want them to regain their lives and stop working 80 + hours a week. At the same time they can greatly grow the value of their business and turn the business into an asset."
Doubleday says that Olympic athletes have coaches, like top ballerinas and world-class footballers like Lionel Messi. "We all need coaches to help us see things differently and improve what we undertake. "It's a shame the government has pulled such a popular and effective coaching programme as part of the latest cuts to the Department for Business, Innovation and Skills. However, I am now offering to step into the breach."
To find out more about how Brian can help you can contact Brian Doubleday at:
www.actioncoach.com
or take a look at his Twitter feed
www.twitter.com/BrianDoubleday
, or you can find me on LinkedIn or call Brian on 07703 107070.