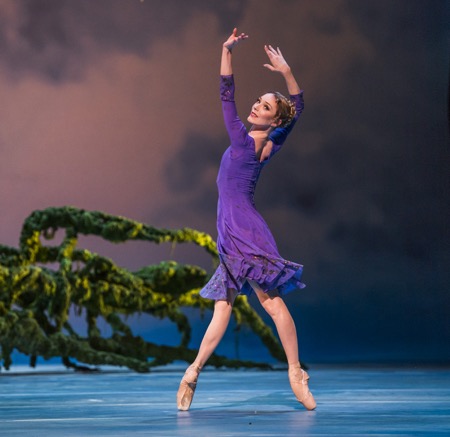 Sarah Lamb as Perdita in The Winter's Tale © 2018 ROH. Photograph by Tristram Kenton


Antonio Pappano and Darcey Bussell among guest presenters at the new Royal Opera House Cinema Festival
Guest presenters will offer exclusive performance insights during the Royal Opera House Cinema Festival, which opens on Monday 3 December in the state-of-the-art Linbury Theatre. Famous faces include former Royal Ballet Principal Darcey Bussell (presenting Sylvia, 7 December, 7pm) and Music Director of The Royal Opera Antonio Pappano (presenting Otello, 21 December, 7pm, and The Flying Dutchman, 29 December, 7pm). The festival, which includes 11 free opera and ballet performances for children, runs until Sunday 6 January.
The guest presenters will offer expert knowledge and unique insights as they open selected performances with a short introduction. Also among those taking to the stage to present are Royal Ballet Principals Sarah Lamb (Manon, 28 December, 7pm) and Edward Watson (The Winter's Tale, 23 December, 4pm), Principal Character Artists Kristen McNally (Romeo and Juliet, 29 December, 2pm) and Philip Mosley (La Fille mal gardée, 8 December, 2pm) as well as stars from The Royal Opera including sopranos Susan Bullock (Gloriana, 14 December, 7pm) and former Jette Parker Young Artist Madeleine Pierard (Cendrillon, 16 December, 4pm).
In addition, Director John Copley will present his version of La bohème (8 December, 7pm), Director of The Royal Opera Oliver Mears will present La bohème, (Sunday 30 December, 4pm), British director and Head of Royal Opera Staff Directors Amy Lane will present Tosca (22 December, 7pm and Don Giovanni (5 January, 7pm) and American conductor and Chorus Director of the Royal Opera Chorus William Spaulding will host Nabucco (4 January, 7pm).
Kevin O'Hare, Director of The Royal Ballet commented -
'Featuring heritage and contemporary works from both The Royal Ballet and The Royal Opera, this Cinema Festival showcases the best of the Royal Opera House.'
"Audiences will also have the exclusive opportunity to hear from the artists and staff who brought these cinema productions to life. What better way to celebrate their talents and 10 years of cinema broadcasts than in London's newest theatre.'

Cinema festival audiences will be the first visitors to enjoy the Linbury Theatre, the West End's newest and most intimate theatre, which opens for staged performances in January 2019. The cinema festival has been thematically curated by Kevin O'Hare, Director of The Royal Ballet, to showcase world-class opera and ballet at its best and to offer something special for younger audiences.
Tickets cost £10–£17 for adults and are free for children aged five to 15 years for The Nutcracker on 3 December and for all Saturday and Sunday matinee performances. We ask for a maximum of two children with any one adult. To book tickets visit:
www.roh.org.uk/cinemafestival