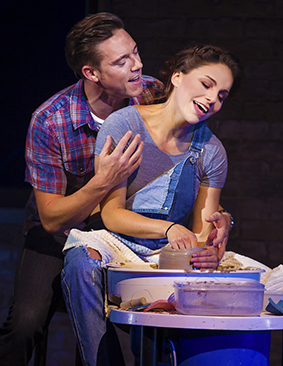 Interview with Andy Moss
How exciting is it to be doing Ghost - The Musical?
So exciting! I did a few things just after I left college but nothing of note so this is my first treading of the boards since then. I'm so excited but it's also a bit nerve-wracking – not the idea of performing in front of an audience but because it's such an iconic role. Patrick Swayze's shoes are big shoes to fill, for sure, and my mate Richard Fleeshman did Sam in the original West End production and he was amazing too. So there's a bit of pressure but we've not gone for a carbon copy of either the West End or Broadway versions.
What was it about this particular show that made you say yes?
Number one, I'm a massive fan of the movie. Number two, I've been dying to get back on stage for a while now. I love TV and stuff but there's nothing so gratifying as doing a live show. Then number three, there's the music. It's by Dave Stewart from the Eurythmics and Glen Ballard who has produced loads of albums that I love as well. When I heard the songs I could hear all their influences in it so the whole package of having those guys on board, this iconic movie and the fact it's a nice three-month tour sold it to me straight away.
You've done TV but what challenges does a stage show present?
The main challenge for me is to make sure my voice can sustain it every day. There are some big numbers in it and I've been in bands over the years so I can sing, but doing it every night across eight or nine shows a week is a tough prospect. You have to know when to belt it out and when to hold back and save your voice. Also everything has to be cued to a sound cue or a music cue or somebody else's line or a lighting cue. I'm not used to that in TV. If we move the lines around a little bit because it seems more truthful they'll usually buy it, but with this you have to be word-perfect. So it's about trying to hit the marks for everyone else and trying to make it sound like you're doing it for the first time.
You've also done rock concerts but is a musical a different discipline?
It's so different. I like musicals, don't get me wrong, but I'd never seen one and gone 'My God, that's amazing, I want to be in it' whereas with this one when I heard the music I thought 'That's well good'. They told me they didn't want a musical theatre singer and a musical theatre voice, they wanted one with a bit of something different to his voice – and hopefully that's what I've been able to add to Dave and Glen's music.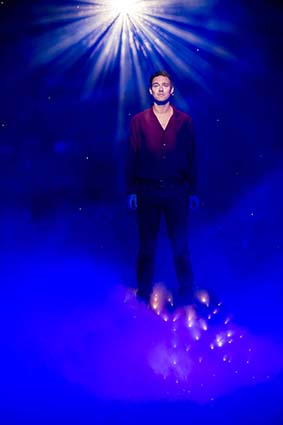 Why do you think this particular story means so much to so many people?
It's the everlasting love thing, plus it came out at the beginning of the 90s and there hadn't been many amazing stories like this. It has a bit of something for everyone in it. There's the life-everlasting love story and everyone knows someone who has passed on and has that longing to see them again. Also it was when Whoopi Goldberg was at her peak as were Patrick Swayze and Demi Moore. It had a stellar cast and the culmination of that with the fact everyone can relate to the story, because something similar has happened to them at some point in their lives, is why it resonates so strongly. That's why people love the film and why they come and see the stage show, plus it's almost nostalgic now, isn't it?
Can you recall when you first saw the movie and what effect did it have on you?

I watched it with my mum and dad. It was like a Sunday family movie and it affected me because it's when I started getting interested in ghosts and stuff. It was the first time I'd seen it in a film and it's not there to be scary, it's there for another reason that you don't understand as a kid. So that's the first time I started thinking about ghosts. Nowadays the shadow ghosts that come at the end of the movie to get the baddies aren't that scary, but they used to scare me senseless.
What are you most looking forward to about the tour?
I'm looking forward to visiting towns and cities I've never been to. That's going to be exciting, but I'm quite a homebody. If I go out partying or with friends I like to go home at the end of the night so it's going to be a bit weird being away, but it's part and parcel of the job and hopefully it will lead to other things like this. It's got me so excited about acting again and it doesn't just have to be on TV or in a film, I can go on tour and I go do it in another country. Hopefully this will be the gateway to other things. It's a great show and a great part and I hope I manage to do it justice.
Mon 27 February – Saturday 4 March
Mon – Sat eves 7.30pm
Wed & Sat mats 2.30pm
Tickets from £17.90 fees apply
You can book tickets by calling the Box Office on 0844 871 7645 (fees apply)
Groups Booking Line 0844 871 7601 or online at
www.atgtickets.com/woking
(fees apply)
Calls cost up to 7p per minute, plus your phone company's access charge.
New Victoria Theatre, Peacocks Centre, Woking, Surrey, GU21 6GQ