New album to be released 8 June 2015
Meet Sasha McVeigh. An impeccably talented country singer who has taken the US country music scene by storm.
Two and a half years ago, Sasha took a two week trip to Nashville with a plan to perform a handful of shows. What resulted was two weeks of solid bookings at venues such as Tootsies Orchid Lounge, The Rutledge, The Bluebird and various others up and down Broadway. The reception she received meant Sasha subsequently returned to Nashville numerous times for extended periods in 2012 to 2014. During one of the trips, Sasha recorded her first EP made up solely of original material. Music from the acoustic EP has received airplay in the US and UK including Coast to Coast AM in the States. Sasha has also been BBC Introducing's Artist of the Week three times.
This May, Sasha will be releasing her debut album 'I Stand Alone', the money for which was raised using Kickstarter, the world's largest funding platform for creative projects. The album is undoubtedly personal. A collection of songs detailing the life of a young singer/songwriter who has hit the big time in a country not her own. A fresh voice which encapsulates the meaning of 'country music' in every way.
The catchy 'Someone To Break My Heart' speaks of needing a muse in the form of a heartbreaker to use as inspiration to write a decent song. The seductively rocky 'Hot Mess' describes the dual personalities of each person and having the urge to do something crazy and unexpected. The delightfully trademark-country 'Time Of My Life' describes a fond memory of a young love which oozes happiness.
In the US, Sasha has completed two successful tours in the summers of 2013 and 2014 where she performed at some of the biggest country music festivals. In April, Sasha will embark on a co-headline tour of the UK and Ireland with American singer/songwriter Sonia Leigh.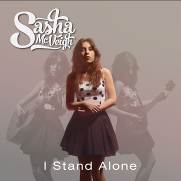 'I Stand Alone' is home to a selection of endearing and charming tunes that will warm the heart of any country music fan. Sasha McVeigh is on the up and this year she's out to prove it. "These past few years have been part of a journey, a journey that's far from over," says Sasha. "I feel incredibly blessed for all the opportunities that continue to present themselves and for the support of my fans, friends and family. There's a lot to look forward to in 2015 and I just can't wait to get started!"
UK Tour Dates
April Co-headline tour with Sonia Leigh
08/04 London, Water Rats
09/04 Bristol, The Exchange
10/04 Basildon, Culpeppers
11/04 Nottingham, The Bodega
12/04 Glasgow, Oran Mor
13/04 Leeds, Brudenell Social Club
14/04 Leicester, The Musician
15/04 Manchester, The Roadhouse
17/04 Milton Keynes, Fort San Antone
19/04 Dublin, Whelan's Upstairs
21/04 Exeter, Phoenix
22/04 Birmingham, Hare & Hounds
May
17/05 Dartmouth, Dart Music Festival
24/05 Hay-On-Wye, Hay Festival
29/05 Worcester, SevernSounds Festival
Listen via Soundcloud here >>>
soundcloud.com
Follow on Facebook here >>>
www.facebook.com
Follow on Twitter here >>>
@sashamcveigh
Website here>>>
www.sashamcveighmusic.com