17/05/18 10:45 Filed in:
What's On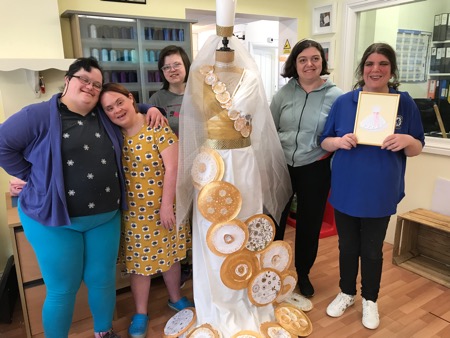 Royal Wedding at The Grange, Bookham
The photo above shows Anissa, Sophie, Louise, Fliss and Mary Anne who attend Creative arts session at The Grange charity in Bookham.
The students at The Grange were putting together a new window display for Grange@No5 gift shop in Bookham, which sells items made by residents at The Grange and decided to design Meghan's dress for the Royal Wedding. The dress is made of paper, doilies and picnic plates.
It's not the first time The Grange has made clothes for the royal family. The charity was founded 80 years ago as 'The School of Stitchery and Lace' for young women with physical disabilities who made many items for Queen Mary and even a dress for Queen Elizabeth when she was a young girl.
This week The Grange celebrates its 80th anniversary, The Grange is helping people with learning disabilities live independent and fulfilling lives. For more information please visit >>>
www.grangecentre.org.uk