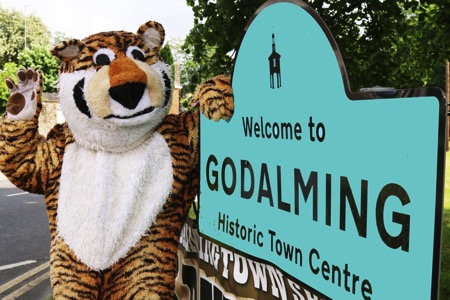 Tigers spotted in Godalming
Tigers are one of the world's most loved animals but how much do you know about them? You can discover more about these magnificent big cats AND have the chance to win a fabulous special edition 'Augustus' the tiger adoption by taking part in the David Shepherd Wildlife Foundation's Godalming Tiger Trail this summer.
Launching with a street collection for wild tigers in Godalming on Saturday 23 July, the trail begins on Monday 25 July and embraces World Tiger Day on Friday July 29.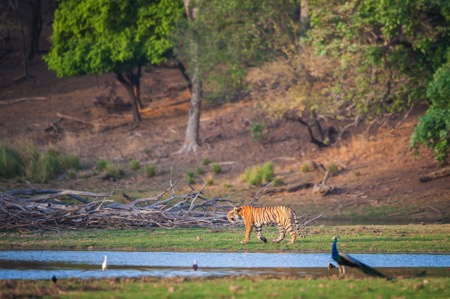 "The tiger has been in crisis for so long that many people have forgotten how few of them remain and how vitally important they are to the survival of forest habitats and the planet as a whole," says DSWF Education Manager, Jo Elphick. "The aim of the Godalming Tiger Trail is for children – and parents – to rediscover the magic of tigers and engender understanding and support for them while having fun and the chance to win a really lovely special edition adoption that includes the award-winning children's book 'Augustus and his smile' by Catherine Rayner."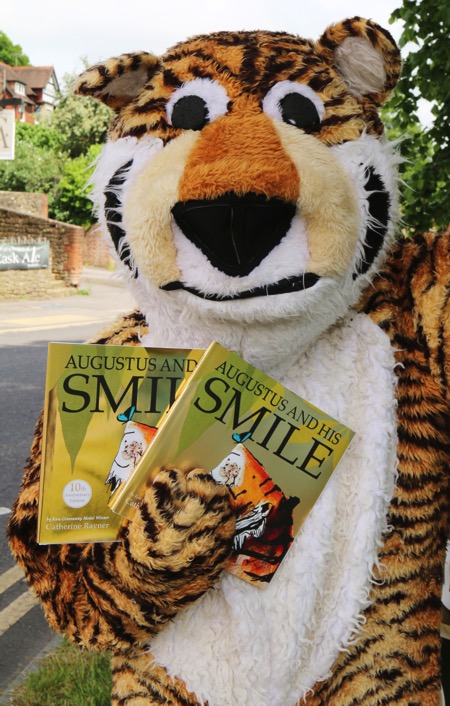 To take part simply collect your free answer sheet and map from the Godalming Art Shop at the bottom of Godalming High Street and find the tigers and their questions in participating shop windows. Completed forms should be handed in at Waterstones and the winner will be notified by Tuesday 2 August.
"It's a wonderfully simple idea to raise awareness for wild tigers that we hope children and parents will love," adds Jo.
Special Information:
There are estimated to be c.3,500 tigers left in the wild. Since the turn of the 20th Century the tiger has lost c93% of its historic range and numbers have plummeted from 100,000. The main threats to the wild tiger are habitat loss, human encroachment and poaching for the illegal wildlife trade.
The David Shepherd Wildlife Foundation (DSWF) based in Shalford, has been fighting to protect tigers for over 30 years and in 2011 launched its successful social media campaign TigerTime to help raise awareness and funds for conservation projects in India, Russia and Thailand and undercover investigations into illegal trade and trafficking from tiger range countries to China and other Far eastern consumer countries. Find out more at www.tigertime.info
Catherine Rayner is an award-winning children's author and illustrator and DSWF have teamed up with her to create the special edition Augustus adoption as part of the 10th anniversary celebrations of 'Augustus and his Smile'. Proceeds from the sale of the anniversary edition also go to support DSWF's tiger conservation projects.