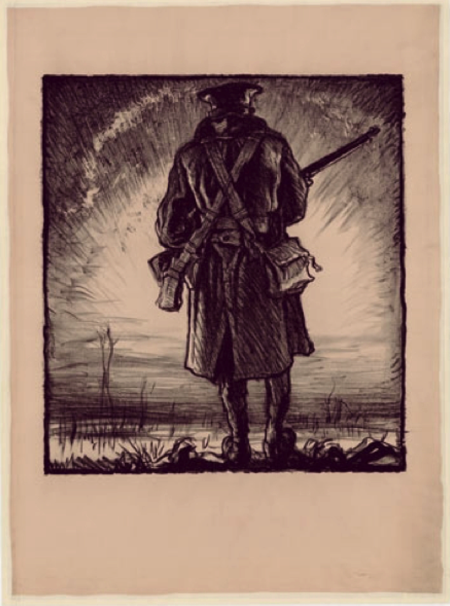 The Graphic Art of the First World War
9 January – 5 March 2016
Guildford House Gallery. A touring exhibition in Guildford from Leicestershire County Council Museum Service. Frank Brangwyn (1867-1956) was a famous international artist when the First World War broke out.


A self made artist and designer with no formal academic training, Brangwyn was well aware of the power of printed images to influence public opinion, and felt it was his patriotic duty to use his art on behalf of the war effort.
Although not an official war artist Brangwyn produced over 80 lithographs and posters during the First World War, which included images of the machinery of war, the non military involvement in the war effort, and rehabilitation of injured servicemen.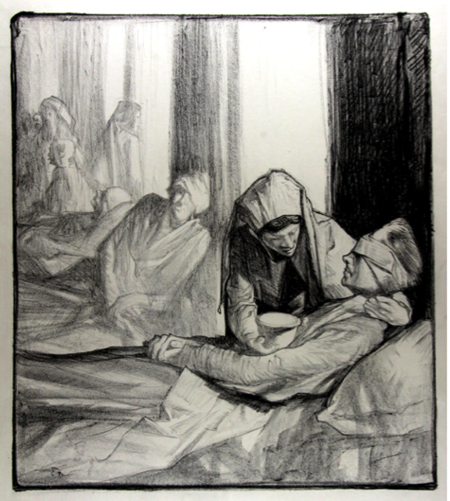 Born in Belgium he identified with its people and the destruction of the country at the start of the war. Brangwyn's first poster Britain's Call to Arms showed the reality of war in all its horror to the unsuspecting British public. The poster, which was displayed on the London Underground system inspired men to enlist in huge numbers. However the War Office, concerned by the graphic nature of the image asked Frank Pick, the commercial manager of the London Underground, to remove it from underground stations. They later relented and the poster continued to be used for recruitment during the early stages of the war.
This exhibition contains a selection of twenty imposing posters. These stark monochrome images show a glimpse of what life was like for many people during the war.
For further details call
01483 444751
or email
heritageservices@guildford.gov.uk
Exhibition entry is free.
Guildford House is open Monday - Saturday 10 – 4.45; Sunday 11-4 (May – Sept)