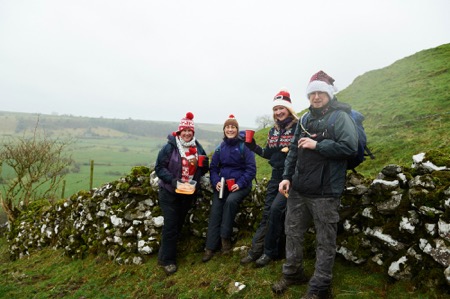 The perennially popular Ramblers Festival of Winter Walks is back, taking place this year from Friday 21 December to Sunday 6 January.
Ramblers groups across the UK are offering a selection of free festive walks to give everyone the chance to enjoy the wonderful winter landscape in good company, and to make new friends at a time of year when many people can feel lonely or isolated.
Ramblers research from winter 2017 found that nearly half (46%) of adults surveyed said they sometimes felt socially isolated or lonely, and more than a third (35%) said there were days over the Christmas period where they didn't see anyone­.
Tompion Platt, Ramblers Director of Advocacy & Engagement, said:
"Winter is a wonderful time to go walking and enjoy the cold crisp air and striking frosty landscapes, and of course it's a great way to burn off the effects of Christmas over-indulgence. "But we also know that the festive season can be a particularly difficult time for people who are on their own, and a sociable walk with a welcoming group is a great way to get out and about and meet people. Our Ramblers groups have hundreds of walks organised during our Festival of Winter Walks. All you have to do is turn up and enjoy the company – and perhaps a mince pie and a festive drink too!"
During the festival there are hundreds of walks planned across the country, so there is something for everyone, from short festive strolls to more strenuous walks:
• Visit
www.ramblers.org.uk/winter
for details of hundreds of free group walks taking place across the country
• If you need a little inspiration on where to walk, download one of thousands of Ramblers Routes from our online library. You can use these to head out for a solo stroll or rally round friends and neighbours and lead festive walks.
All group walks during the Festival of Winter Walks are free to attend, but if you're inspired to keep walking, why not join the Ramblers? Your membership will give you access to hundreds of group walks every year, an online library of over 2,500 Ramblers Routes, as well as many other benefits, which also makes Ramblers gift membership the perfect Christmas present.
The Festival of Winter Walks is supported by players of People's Postcode Lottery to help everyone, everywhere enjoy walking.
Clara Govier, Head of Charities at People's Postcode Lottery, said:
"We are delighted that players of People's Postcode Lottery are able to support the Ramblers with their Festival of Winter Walks, which we know will help thousands of people discover the joys of walking."