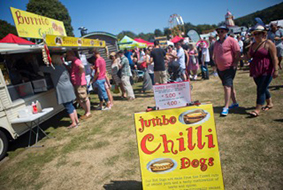 Three-day family-friendly festival with camping
11, 12 & 13 August 2017 - 10am – 9pm Fri, 10am-10pm Sat, 10am-7pm Sun

West Dean Gardens, Near Chichester, West Sussex, PO18 0RX
West Dean Gardens award-winning Chilli Fiesta returns with a creative flair for its 22nd Year (11, 12, &13 August). The UK's biggest chilli festival attracts 25,000 visitors who come to enjoy the three-day programme full of food, live music and entertainment. The family-friendly festival takes place in the spectacular grounds of West Dean Estate, in the heart of the South Downs National Park, home to West
Dean College, acclaimed for arts and conservation, and glorious West Dean Gardens. With a sizzling selection of live performances, 140 market stalls, cookery demos by top chefs, garden tours, visitors can expect to party and dance to live Latin music, watch cookery and gardening demonstrations, and dine on delicious chilli foods.
Live Latino music and dance performances throughout the weekend start at 10am on all three days and finish at 9pm on Friday, 10.30pm on Saturday and 9pm on Sunday. Some notable performances for 2017 will include: Andalus; the leading Gipsy Kings tribute band, Kongo Dia Ntoltila, the rumba, afro-jazz band, all girl Rock 'n' Roll band; The Daisy Chains as well as The Fontana's – the Afro Brazilian live band. Big Noise Band, the community Samba Band will be returning by popular demand, as will the steel pan, acoustic guitar and percussion trio - Steel Strum.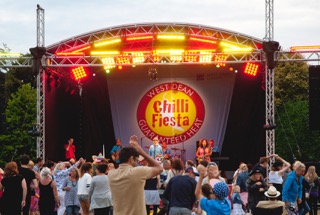 Festival-goers will be dazzled by the legendary Latino Strictly Come Dancing professional, Oti Mabuse, as she takes centre stage on Sunday 13th August at 13:15, 14.45 and 16.30. Salsa dancers Debbi and Francisco will be turning up the heat with interactive dance workshops and reigning UK Latin American Dance Champions Ryan and Ksenia will be returning this year to perform throughout the weekend. Visitors can pick up new culinary skills in the Cookery Theatre as they experience live food demonstrations by a host of incredible top chefs and food influencers. Recognisable faces such as Dragons Den's most renowned entrepreneur Levi Roots, the most recent MasterChef winner Saliha Mahmood- Ahmed and previous Professional MasterChef champion Steven Edwards will be among those offering top tips and demonstrating their culinary skills.
Dan Doherty will be taking the weekend off from London's renowned Duck and Waffle, where he is the Chef Director, to join in with the Chilli festivities to talk about his latest book 'Toast Hash Roast Mash', as well as offering advice to budding chefs and food enthusiasts. Country pub and the Earl of March (in Lavant), along with Henry Herbert from The Fabulous Baker Brothers and West Dean's Head Chef Dan Frowen, will be revealing their culinary secrets and answering questions during their demonstrations in the Cookery Theatre. Giles Thomson, formally Executive Head Chef at the Ritz London and now owner and Head Chef of The Earl of March will be compering the Cookery Theatre throughout the weekend. Rosie Birkett, chef, food stylist and journalist will also be in the Cookery Theatre and will be putting on interactive workshops in the Workshop Tent as will Kate Morris, who specializes in cookery skills for children. Kate is a co-devisor of CBeebies' 'I Can Cook'. Using ingredients from all over the world, these chefs will be sharing their knowledge in an easy and relatable manner, ensuring visitors take away new skills to recreate at home.
Learn the true art of growing chillies with West Dean Gardens' very own Gardens Supervisor and chilli expert Sarah Wain. Sarah along with her husband, Gardens Manager Jim Buckland, have managed the award-wining gardens for the last 26 years. In their Victorian glasshouses 150 chilli varieties will be on display. In the Garden Theatre Sarah will be joined by another chilli expert from the Chilli Alchemist, who make unique chilli products to compliment all types of taste buds. They will be revealing information about how and why our bodies react to the fiery fruits. Edible Ornaments, the team behind The Cherwood Chilli Ranch, will also be taking to the Gardening Theatre stage along with Sea Spring Seeds, who will be teaching the audience how to pick the perfect pepper. Mark Diacono, award-winning food writer, grower and photographer will be talking about life on Otter Farm and Emily Rae will be giving her top gardening tips. Rachel Seigfried will be in the Gardening Theatre on Sunday at 13:45 and she will be advising the best flowers to grow for intense colour in late summer.
Also new for 2017 is the Hidden Cinema with three screenings a day, including an art film and a children's screening. Brand new workshops will offer dance, drumming, food and children's cookery. There will be a selection of bars and restaurants onsite and a wide range of chilli-related food stalls, as well as foods to cater to all tastes, from champagne and seafood to Mediterranean delights. With over 140 stalls, visitors can expect a great variety of quirky gifts available to purchase, from hot and spicy foods of the world to chilli plants, seeds and gifts. All shopping stalls close at 6pm but there will be a range of food and drinks available into the evening as the entertainment continues.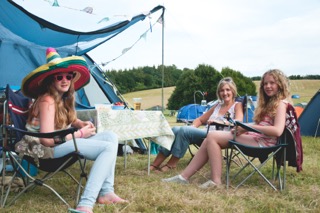 Camping for the weekend
Weekend family-friendly camping offers full top of the range campsite facilities (including showers, flushable toilets and running water). Camping tickets must be purchased online prior to arrival as pitches are limited. The campsite on the rolling West Dean Estate is split into three zones and is picked on the day of arrival: Jalapeno (most popular general camping area, close to the event arena and enhancing the festival atmosphere); Pimento (quiet camping area away from the main arena ideal for a good night's sleep); and Bell (family friendly and close to the toilets and showers). A limited number of pitches are available so early booking is essential.
Book online at:
www.chillifiesta.co.uk