09/01/19 11:44 Filed in:
Travel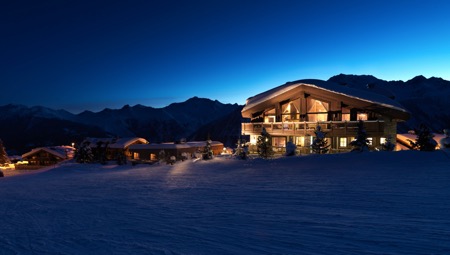 About Firefly Collection
Luxury travel specialist Firefly Collection, which offers over 600 ski chalets and villas across 74 destinations, has selected five of the finest winter addresses offering the ultimate in wellness. For the French Alps, this means entire spa floors, expert therapists on call to ease aching muscles, splendid swimming pools and steaming hot tubs, and serene settings to inspire mindfulness.
SAMPLE PROPERTIES

Chalet Marco Polo, Val d'Isere - sleeps 10-14, from 22,800 Euros per week
Set in the heart of Val d'Isere, Chalet Marco Polo retains its privacy due to being set back from the road and at 1,000 square metres, there's plenty of opportunity to find head space - either with or away from family and friends. The super-stylish main living area commands enviable views of La Face piste and watching the action on the slopes is hypnotic. An entire floor is dedicated to wellness with an indoor jet stream pool - finished in gold leaf - a Jacuzzi and hammam. The massage room - which enjoys a dedicated therapist on stand-by - sits next to an automatic hydro massage area. For those of a romantic bent who simply cannot tear themselves away from their beloved, the chalet gymnasium offers two of every piece of equipment, so a couple can work out together.
SEE PROPERTY HERE >>>
www.firefly-collection.com/properties/chalet-marco-polo
La Bergerie, Courchevel 1850 - sleeps 14, from 125,000 Euros per week
Costing £20 million to construct and finesse, La Bergerie is understandably extravagant yet maintains a discreet presence just five-minutes from the heart of Courchevel 1850, neighbouring the Bellecote piste. Guests in the seven suites - each of which boasts a freestanding bathtub and rainfall shower - enjoy the expertise of a dedicated deep tissue massage therapist and a deluxe chalet spa, Technogym-equipped gymnasium and 20-metre swimming pool. The numerous staff, including chauffeur and butler, ensure that guests' needs are anticipated round the clock and worry is a world away.
SEE PROPERTY HERE >>>
www.firefly-collection.com/properties/la-bergerie/luxury-ski-chalet
Firefly Collection founder Tim Latimer said: "As these five super-chic chalets show, a winter sports escape can be the ideal way to kick off the New Year's resolutions of sobriety and self-care .Lavish and luxurious, they also provide opportunities for keeping - or getting - slope-fit, maintaining exercise programmes, rejuvenating mind and body with specialist therapies, and relaxing indoor or al fresco dips."
Find Firefly Collection at
www.firefly-collection.com