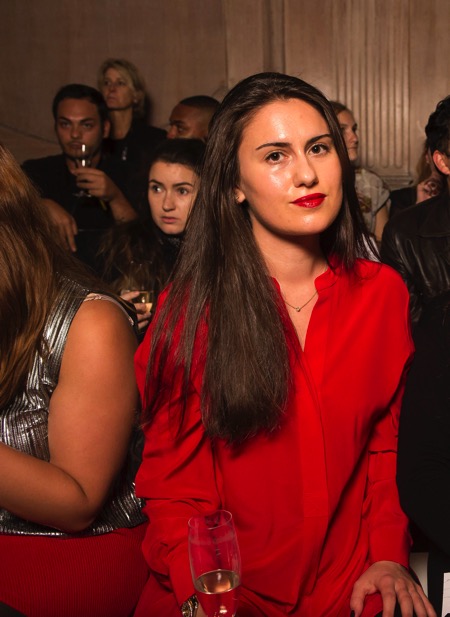 Francesca Barrow
The city where fashion has no rules written by the girl who believes it does. There's a fine balance and personally, I think Alexander McQueen said it best, 'you've got to know the rules to break them. That's what I'm here for, to demolish the rules but to keep the tradition'. And that he did - beautifully. So I'm always a little sceptical of London Fashion Week because not everyone can cut a suit on Savile Row. Is what I see going to have craftsmanship as the foundation of its eccentricity or is it just going to be wild for the sake of being outlandish with little skill to comment on? I know, I know - I'm old school; I need to get over it but the design prowess that keeps me doing what I do in terms of giving me that thrill as it comes down the runway is that which has quality as its base and imagination as its purpose. So without further ado, here is this traditionalist's round up of London Fashion Week SS17: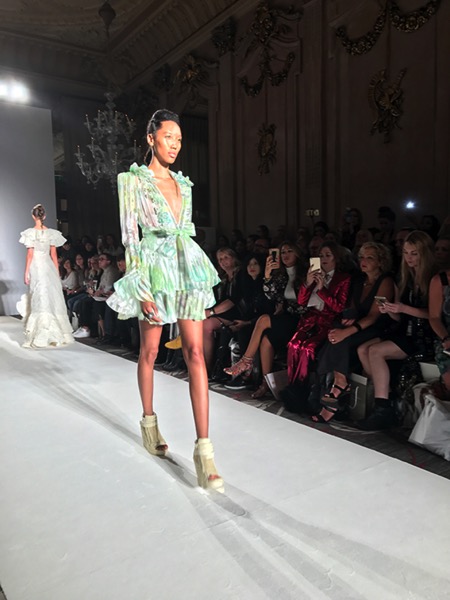 Paul Costelloe
Sitting front row at Paul Costelloe is like sitting with the cousin of London Fashion Week, twice removed. First of all, his entrance reputably has a grandeur I could liken more to Paris than our own great metropolis. Second of all, his hospitality is well… there is hospitality- bubbles on full-flow until the plastic is removed from the runway. Everyone is relaxed; unlike the usual bustle and sense of exhaustion as the crowd have been from show to show each running late, each a waiting game. This feels more familiar; more like the days when certain designers made their shows into parties. Everyone is chatting away happily - not noticing the time. When the show does begin, I'm transported to Ireland. I am in fact quarter Irish and love this music. Texture is the name of the game. This collection is about reviving linen. I love that idea because I'm all about texture. I'm not all about creases though; I know it's difficult to great creases out of linen but this is a presentation of a hard-earned collection - I really wish there were no creases. Back to the design though; pretty but it's not until the first piece that isn't linen that I really stand up and take notice. What is that? That gorgeous pink-thing. It's shiny and silky and has kind of an 80s vibe. It's seriously cute and not a crease in sight.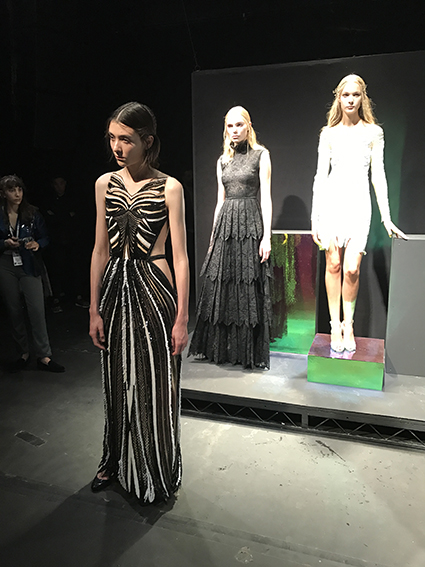 Manuel Facchini
I wish all of London Fashion Week was just like this. Edge done well. If you're Manuel Facchini you pick an awesome location like The Mall and host your presentation in a Berlin-style basement which is all sorts of dark with grungy music - and pick models which look like proper models and are eclectic in style gracefully moving and looking into the camera lens completely embodying this mysterious character my mind is already conjuring up as I'm viewing his collection. His clothes are geometric but romantic (gothic) and beautifully tailored. But then if you're Manuel Facchini you have the background of being art director of the historic Italian fashion brand Byblos - so go figure.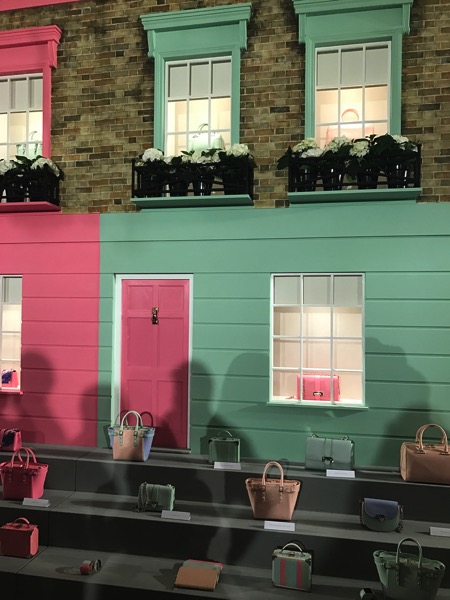 Aspinal of London
One sometimes forgets that Aspinal of London is actually a fairly young brand as it comes across so British heritage. Their presentation certainly fit this ideal hosted at one of my favourite spots for fashion-things (or anything in fact); Claridges. It's all very pretty and girly; Peggy Porschen (a blast from the past for me as her shop was just opposite Façonner's townhouse in Belgravia where I curated my collections) has all sorts of delightful delicacies in the form of sweet things going around, there is tea and most importantly, Laurent Perrier champagne. And flowers. Lots of flowers. It's all very proper. I am shown around the collection, which is fairly versatile. They have just done something very innovative in launching a collection only initiated three months before with Michelle Dockery for sale now and they are presenting this at SS17. It's nice for us fashion kids to be able to see something at fashion week and know it's available right away; usually by the time the collections hit the stores, I'm over it because I've already used it in my shoots. Out of everything however my favourite remains anything fairly monochromatic and masculine. That said, they had some fabulous blues. Unfortunately the only bag in this sensational mint green (it's so hard to get mint green just right) I saw and immediately fell in love with isn't actually available in that colour and was just for display purposes. Dearest Aspinal of London, if you ever want to make me terribly happy - you know what to gift me (hint, it's mint green). Love, Francesca.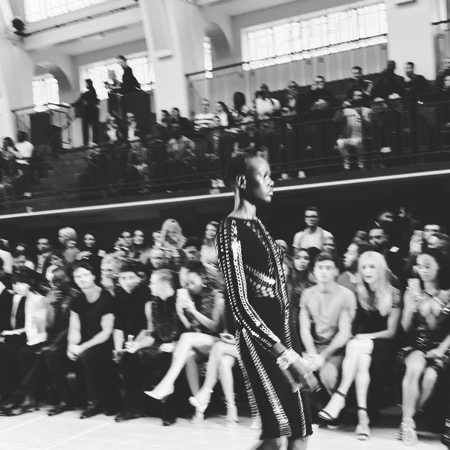 Julien Macdonald
It might come as a surprise for those who know me; given that my style is classic and I'm all about those Chanel pearls, Manolo Blahnik heels and red lips - but Julien's show is always going to be one of my favourites at London Fashion Week. Because I also like deeply sexy things and this to me is a show. Hosted at Seymour Street sports centre (more on that in a moment), the bustle outside is one where everyone is looking each other up and down and the cool kids go straight in - yet inside is, as per usual, one of the friendliest spots of the week with everyone talking amongst themselves; bubbles being poured on repeat and cool, bouncy music vibing through the hall. It was the perfect spot for a fashion show - with the gallery floors above giving the space height and massiveness. Quite literally all of a sudden, these two massive football-stadium lights turn on - the music gets even louder and without any real intro or fuss, the first model sashays with all sorts of attitude down the runway. It's one of those moments where your heart flutters and feels this surge of excitement and you wonder why amidst the strong desire to get up and dance, you also almost feel like crying a little because it's just so god damn cool. In between thoughts of 'he's done it again' running through my mind, I take notice of the rock n' roll chic in the form of both guys' and girls' getups coming at me; it's all so alight with 'boom' and funk and yet so eloquently beautiful and glamorous simultaneously. And then of course the show finishes with Julien walking down with his typical humility as though it's all just thanks to his spectators. No, no darling - it's completely thanks to YOU.
Barbara Casasola
This was true London-Fashion Week style for me. Running from Julien Macdonald past the guards at Brewer Street car park towards the PR girls ushering me in with seconds to spare before the show - running in heels up the car park as a gentleman in a golf-buggie driving effortlessly alongside me says 'get in!' whilst onlookers usher me on 'get in, get in!' I manage to jump on with my best Bruce Lee style flying move, wind in my hair as he speeds up the ramp - but still don't quite make it to my seat in time as the lights dim just as I get to the top. The collection was the polar opposite of my entrance - super relaxed, fluid and easy. Very pleasing with chilled out, contemporary and structured yet feminine pieces (Japan meets New York) flowing down the catwalk.